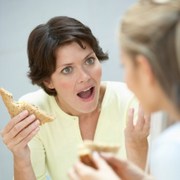 Photo: Getty Images
Whether you work at home or bring lunch to work, carry on three conversations via your smart phone, your child's playgroup and your CEO simultaneously, or even if you are retired and enjoying the fruits of the past thirty-five years of your labor and settling into some pleasant activity mid-day, lunch matters.
We tend to overlook lunch as not being as important as breakfast nor as exciting as dinner. The truth is, eating a healthy lunch can do wonders for your energy reserves throughout the day and this is true for you, your family, and your loved ones no matter what their level of activity and busy-ness.
Healthy lunches mean whole grains, unprocessed foods, lots of slow-burning carbs like sandwiches loaded with veggies and made with whole wheat pita bread, multigrain bagels or whole wheat wraps.
Many of us are stressed during the day, working hard, with lots of demands upon us. Children, too are working hard and even experiencing a certain amount of stress, whether they are playing in the school yard, doing sports or just putting lots of energy and attention on their playing and learning. (Growing, too, takes lots of energy, remember ...)
So feeding your children healthy, whole-grain sandwiches packed with lots of nutrition is crucial for their continued health and well being.
Tuna salad is delicious, egg salad, chicken salad -- the wonderful thing about protein-based "salads" is that you can use low-fat mayonnaise, add lots of flavor via yummy seasonings, and even sneak in gorgeous vegetables.
The heartiness of the bread combined with the crunchiness of the vegetables can help de-stress you and fill you up without having you succumb to sugar for comfort or for an energy boost.
The importance of the heartiness of a sandwich cannot be underestimated. In my opinion, many people fall off of their healthy eating habits sooner by forcing themselves to eat salads every single day for lunch than they would if they simply allowed that luscious, filling bread-feeling back into their midday lives. The key is finding bread that you like and is also unprocessed and whole grain.
Many people feel better both emotionally and physically when they eat a wide variety of foods instead of just one thing. If you give yourself and your family choices at every meal, or at least two items, you may feel more satisfied and stay away from quick, unhealthy fixes.
For example, providing a wonderfully healthy sandwich, as well as a piece of fruit, some delicious, crunchy nuts, and some baby carrots with dressing may make you feel you have eaten your fill and gotten a chance to sample many different flavors.
Remember, protein, flavor and heartiness make wonderful lunches. Having something you feel you can really sink your teeth into will make you feel you are not being deprived.
Sources:
1. Cheap and Healthy Brown-Bag Lunch Ideas for Grown-Ups
10 Workday Lunch Ideas that will save you time, money and calories
by Kathleen M. Zelman, MPH, RD, LD WebMD feature
WebMD. Retrieved from the internet on January 10, 2012
http://www.webmd.com/food-recipes/features/cheap-and-healthy-brown-bag-lunch-ideas-for-grownups
2. Pack-n-Go and Save. Healthy Lunches to Bring To Work
Health.com. Retrieved from the internet on January 10, 2012
http://www.health.com/health/gallery/0,,20307177,00.html
Aimee Boyle is a regular contributor to EmpowHER
Reviewed January 10, 2011
by Michele Blacksberg RN
Edited by Jody Smith