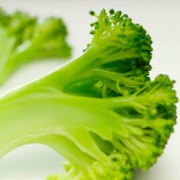 Photo: Getty Images
Broccoli is one of nature's miracle foods. It's relatively inexpensive, available year round and is naturally low in calories. One cup of chopped and cooked broccoli has only 46 calories, yet it is packed with essential vitamins and minerals, fiber and protein.
But its health benefits are the real miracle story here. This familiar green cruciferous vegetable has been around since ancient Roman times fighting all sorts of health issues from cancer and heart disease to age-related vision and bone problems.
It's no accident that more than 300 research studies have focused on broccoli's cancer fighting properties. Broccoli is rich in antioxidants, phytochemicals and omega-3 fatty acids—such as indoles, glucosinolates, beta-carotene, vitamin C and folate— that some studies have shown to inhibit the formation of cancer or reduce the size of the tumors in animals and humans.
Cruciferous vegetables such as broccoli, have been of particular interest to scientists because they contain the highest levels of certain glucosinolates, a class of phytochemicals that many believe may reduce the risk of prostate, breast, lung and colorectal cancer.
When broccoli is eaten as a raw or lightly cooked food, enzymes help to break down the glucosinolates into two valuable compounds, sulforaphane and erucin.
If you want to get the most out of this miracle food, supplements just won't do, according to a new study. It turns out Mother was right. You've got to eat your vegetables.
Researchers at Linus Pauling Institute at Oregon State University examined whether healthy compounds found in cruciferous vegetables can be just as easily obtained through supplements. The short answer is no, and overcooking them isn't helpful either.
Emily Ho, the study's lead investigator, says supplement forms of glucosinolates are missing a key enzyme, myrosinase, that's necessary for the body to absorb healthy nutrients.
"Some vitamins and nutrients are actually better-absorbed as a supplement than through food," Ho said. "But the particular compounds that we believe give broccoli and related vegetables their health value need to come from the whole food."
Small amounts of myrosinase is needed to break down glucosinolates found in the human gut, but the new research showed supplements accomplish that task far less effectively than eating your broccoli.
"Without this enzyme as found in the whole food, the body actually absorbs five times less of one important compound and eight times less of another," the study said.
Most supplements designed to provide these glucosinolates have the enzyme inactivated, so the sulforaphane is not released as efficiently, Ho said in a written statement. "There are a few supplements available with active myrosinase, and whose function more closely resembles that of the whole food, but they are still being tested and not widely available."
Although broccoli has the highest levels of glucosinolates, they are also found in cauliflower, cabbage, kale and other cruciferous vegetables.
If you prefer your veggies cooked rather than raw, Ho cautions not to overdo it. Broccoli cooked until it's soft or mushy also destroys its health value. It's best steamed until it's still a little crunchy.
Ho's study is published in Journal of Agricultural and Food Chemistry and was supported by the National Institutes of Health.
The American Cancer Society has diet and nutritional information about broccoli along with healthy recipes.
Lynette Summerill, an award-winning writer and scuba enthusiast lives in San Diego, CA with her husband and two canine kids. In addition to writing about cancer-related issues for EmpowHER, her work has been seen in newspapers and magazines around the world.
Sources:
Health Benefits of Broccoli. Food as Food website accessed online 12 12 Oct 2011 at:
http://www.foodasfood.com/health-benefits-of-broccoli/
Cancer Prevention: Sulforaphane. Emory Winship Cancer Institute accessed online 12 Oct 2011 at:
http://www.cancerquest.org/cancer-prevention-sulforaphane.html
Nutrition to Reduce Cancer Risk. Stanford Medicine accessed online 12 Oct 2011 at: http://cancer.stanford.edu/information/nutritionAndCancer/reduceRisk
Health benefits of broccoli require whole food, not supplements. OSU Release 11 Oct. 2011 via Eurekalert
http://www.eurekalert.org/pub_releases/2011-10/osu-hbo101011.php
Reviewed October 13, 2011
by Michele Blacksberg RN
Edited by Jody Smith