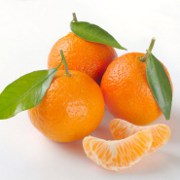 Photo: Getty Images
Most of us are not opposed to taking traditional medicine. But if there's a natural, safe and effective alternative that enables us to avoid those expensive office visits, painful injections, and handfuls of daily pills, then our interest picks up and inquiring minds want to know more! While medicines are most definitely beneficial and can cure – or keep at bay - a myriad of ills, most of us would simply prefer to be proactive and maintain good health naturally rather than fight a defensive battle with our health.
While more studies will be required, researchers from the University of Western Ontario may have hit a triple home run and identified a natural way to protect and prevent obesity, type 2 diabetes, and atherosclerosis or cardiovascular disease by adding tangerines to diets. The findings are particularly significant for those who are at risk for heart disease or stroke since obesity and type 2 diabetes are risk factors for both.
A citrus fruit, tangerines are a type of Mandarin orange. Depending on the variety, tangerines are generally in season from November through January. Sweeter than regular oranges, tangerines are low in calories, high in vitamin B6, iron, potassium, dietary fiber and vitamin C, and contain no cholesterol or fat. (Produce Oasis 1.) They also contain a flavonoid called nobiletin which lead researchers Murray Huff and Erin Mulvihill believe is responsible for the preventative and protective health benefits.
Flavonoids, sometimes referred to as bioflavonoids, are pigments that give plants their color. Water-soluble, flavonoids also possess certain properties – antiviral, antioxidant, and anti-inflammatory - which make them beneficial to our health. (American Heritage 1.) As a part of the study, Huff and Mulvihill examined the effect nobiletin on factors related to metabolic syndrome such as, obesity, blood insulin levels, and cholesterol and triglyceride levels. Metabolic syndrome increases your risk of type 2 diabetes and heart disease, which may also lead to an increased risk of stroke.
During the course of the study, mice were essentially fed Big-Macs-for-Mice--a diet high in fat and sugar similar to the typical Western diet. In addition to the "Big-Mac" diet, one group of mice also received nobiletin as a supplement. The mice consuming typical Western fare gained weight, developed metabolic syndrome and saw an increased risk of type 2 diabetes and heart disease. On the other hand, the mice receiving nobiletin experienced only normal weight gain, and showed no increase in cholesterol, triglyceride, insulin or blood glucose levels. Researchers also found that the addition of nobiletin actually inhibited the production of excess fat. (Science Daily 1.)
"The nobiletin-treated mice were basically protected from obesity," said Huff, the Director of the Vascular Biology Research Group at Robarts. "And in longer-term studies, nobiletin also protected these animals from atherosclerosis, the buildup of plaque in arteries, which can lead to a heart attack or stroke. This study really paves the way for future studies to see if this is a suitable treatment for metabolic syndrome and related conditions in people." (Science Daily 2.)
Since the research was conducted on mice, there is currently no research to indicate whether or not the nobiletin in tangerines would have the same protective benefits for humans. There's also no indication of how many tangerines you'd need to consume to produce similar results. That being said, the study findings do lead to interesting treatment possibilities for the future. In the meantime, the next time you're looking for a sweet and tasty fruit to add to your daily serving, why not try a tangerine?
Sources:
Tangerine, Produce Oasis, http://www.produceoasis.com/Items_folder/Fruits/Tangerine.html
Flavonoid, The American Heritage® Science Dictionary Copyright © 2005 by Houghton Mifflin Company. Published by Houghton Mifflin Company. All rights reserved.
University of Western Ontario (2011, May 26). Substance in tangerines fights obesity and protects against heart disease, research suggests. ScienceDaily. Retrieved May 30, 2011, from http://www.sciencedaily.com/releases/2011/04/110406161030.htm
Journal Reference:
E. E. Mulvihill, J. M. Assini, J. K. Lee, E. M. Allister, B. G. Sutherland, J. B. Koppes, C. G. Sawyez, J. Y. Edwards, D. E. Telford, A. Charbonneau, P. St-Pierre, A. Marette, M. W. Huff. Nobiletin Attenuates VLDL Overproduction, Dyslipidemia, and Atherosclerosis in Mice With Diet-Induced Insulin Resistance. Diabetes, 2011; DOI: 10.2337/db10-0589
http://diabetes.diabetesjournals.org/content/early/2011/04/04/db10-0589.abstract
Reviewed May 30, 2011
Edited by Alison Stanton