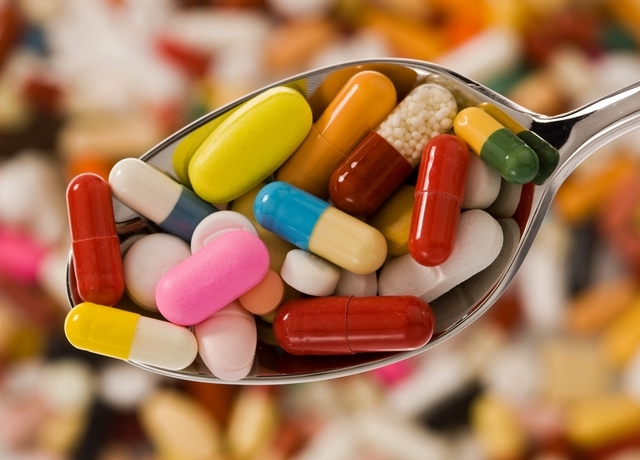 Erwin Wodicka/PhotoSpin
Imagine this story. A woman has high cholesterol, requiring her to take a pill to lower her numbers. This causes her muscles to feel sore, inducing her to take routine pain medications.
The pain starts to wear on her affecting her mood, so she swallows an antidepressant that causes nausea, therefore she uses an anti-nausea medication to help her get through the day.
One of these medications causes mild to moderate heartburn at night therefore she cannot sleep and requires a heartburn medication on days she remembers, and if not she pops something for sleep.
Some days she does both for good measure.
This may sound like a joke, however the journal ACS Chemical Neuroscience published a report that 4.02 billion drug prescriptions were doled out last year. That is a whole lot of medications.
Leading the list in sales is Lipitor (for cholesterol) followed by Plavix (blood clots), Nexium (heartburn), Abilify (depression and bi-polar), Advair (asthma), Seroquel (depression and bi-polar), Singulair (asthma), Crestor (cholesterol), Cymbalta (depression), and Humira (autoimmune arthritis and Crohn's disease).
In terms of actual prescriptions versus sales, the 2010 numbers show that the pain medication hydrocodone/APAP (commonly known as Vicodin) tops the list followed by Amoxicillin (antibiotic), Lipitor (cholesterol), Levothyroxine (thyroid), Lisinopril (blood pressure), Simvastatin (cholesterol), Plavix (blood clots), Nexium (heartburn), and Singulair (asthma).
Interestingly, the top psychiatric medicine routinely prescribed is Xanax which is commonly used for anxiety, however it is addictive and should be used sparingly.
This goes to show you the extremely high amount of stress and anxiety in our society in the last year (or two) given the numbers.
Looking at the sales numbers and actual numbers sheds a lot of light onto the health issues of Americans. Clearly pain, cholesterol, and psychiatric issues are a huge issue requiring a lot of medication.
How many are you on and do you need them all?
Your health is your responsibility so make sure you are aware of what you are taking, including the side effects and possible interactions.
Talk with both your health care provider and pharmacist and do not trust everything you read on the internet -- although, of course, websites like www.empowher.com can be a good source of information.
Be sure talk with your health care provider about your medications. Bring all of them to your visits to ensure the dose you are taking is properly listed in your chart.
Many people know they are on thyroid or depression medication but are unsure of the dose. Having your bottles with you will help.
Find out if each medication is still necessary.
If you have changed your diet and have been exercising, do you still need your cholesterol medication? If you were to add in stress reduction actions such as meditation or regular yoga, do you need your blood pressure medication?
Is your antidepressant still necessary and how are you feeling?
This article is in no way advocating for you to stop taking anything that you need. However, regular evaluation of your medications gives you a reality check and gives you time to talk with your health care provider.
Be aware that many medications have known side effects. The symptom you think is "new" may be a reaction to your medication. Do your homework and ask questions.
Consider alternative forms of therapy to help.
This includes naturopathic physicians, acupuncture, dieticians, nutritionists and dietary counselors, chiropractors, physical therapists, yoga, meditation, counseling/therapy, group work, classes, massage therapy and more.
Explore your options.
References:
1. The Top Prescription Drugs of 2011 in the United States: Antipsychotics and Antidepressants Once Again Lead CNS Therapeutics. Web. 17 September, 2012.
http://pubs.acs.org/doi/abs/10.1021/cn3000923
2. Top 200 Drugs of 2010. Web. 17 September, 2012.
http://www.pharmacytimes.com/publications/issue/2011/May2011/Top-200-Drugs-of-2010
Reviewed September 18, 2012
by Michele Blacksberg RN
Edited by Jody Smith