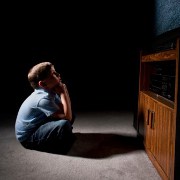 Photo: Getty Images
"Back when I was a kid, we didn't have TV or Internet. Why, I say, back when I was a kid I walked 10 miles to school in the snow each morning and back home in the evenings."
At some point, we've all had a version of the above. Be it from our grandparents or parents, they all have their own rendition of what they did "back when they were a kid."
Well, back when they were kids and television and Internet didn't exist, neither did the high correlation between time spent watching TV and the increased risk for developing diabetes, cardiovascular disease and even death.
Because back when "they were our age," all that walking in the snow and playing outside and finding ways to entertain and amuse themselves that didn't involve staring at a screen for hours on end was substantially helpful in the fight against an array of health problems.
Experts estimate that we watch, on average, five hours of TV each day in the U.S.
And according to a recent analysis conducted by the University of Southern Denmark and the Harvard School of Public Health, every two hours per day spent in front of the television boosts relative risk 20 percent for type 2 diabetes, 15 percent for cardiovascular disease, and 13 percent for all-cause mortality.
Researchers followed 175,938 adults over the age of 25 in Australia through through a meta-analysis of eight studies. The amount of TV they viewed at baseline was measured and followed for over six years. What they found was that each hour of TV viewed, there was an 11 percent increase of dying, and an 18 percent increase of dying from cardiovascular disease.
The study only observed adults but researchers say that children are at risk for developing bad habits that carry into adulthood and can potentially create problems early on. Increased TV viewing in children is associated with increased weight, because of the advertisements they're exposed to, the type of foods they're eating while watching TV, and their low level of physical activity.
Young or not, "it's very important for physicians to ask their patients not only about their exercise habits, but also how much time they spend in front of the TV," said Harvard School of Public Health's Dr. Frank B. Hu.
The researchers said that there are multiple potential mechanisms involved in why increased TV viewing leads to increased risk of overall mortality. The adults they studied who watched the most TV weighed more, were older, had higher waist measurements, higher cholesterol levels, higher blood pressure and other problems.
The Mayo Clinic recommends not to eat while watching TV and not to watch more TV each day than you spend exercising.
So while we all roll our eyes when we hear those "back when I was your age" stories, it may be advantageous for our bodies and minds to lend a listening ear and to do some of the things our parents and grandparents used to do for entertainment … before TV and the Internet came along.
Television Viewing and Risk of Type 2 Diabetes, Cardiovascular Disease, and All-Cause Mortality
http://jama.ama-assn.org/content/305/23/2448.abstract
Too Much TV Time Linked to Diabetes, Death
http://abcnews.go.com/Health/tv-time-linked-diabetes-heart-disease-death/story?id=13844925
Watching too much TV linked to Diabetes 2 risk, as well as premature death from any cause
http://www.medicalnewstoday.com/articles/228194.php
Reviewed June 15, 2011
Edited by Alison Stanton
Bailey Mosier is a freelance journalist living in Winter Park, Florida. She received a Masters of Journalism from Arizona State University, played D-I golf, has been editor of a Scottsdale-based golf magazine and currently contributes to GolfChannel.com. She aims to live an active, healthy lifestyle full of sunshine and smiles.
Tags: