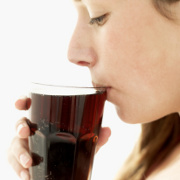 Photo: Getty Images
Millions of people consume a wide variety of soft drink beverages on a regular basis. In the last three decades, hundreds of varieties of soft drinks have been developed -- some are low-sugar, some contain high sugar while some contain artificial sweeteners. The sale of these soft drinks has been increasing each year and is a multi-billion dollar business.
Now, there is a study that shows that consuming these sweetened beverages on a regular basis is associated with a high risk of high blood pressure. The latest study by Dr. John Forman from Harvard Medical School shows that drinking at least one sweetened beverage a day was associated with a 6 to 20 percent risk of developing high blood pressure. However, Forman indicated that there is no direct relationship between these sugary drinks and blood pressure.
Some people drank many such beverages every day and never developed high blood pressure. In addition, there are many other patients with high blood pressure who have never touched these drinks. (1)
However, Forman says these soft drinks really have no health benefits. In fact, there are other studies that show that there is a strong relationship between sugar-sweetened beverages, diabetes and weight gain. (2)
In this study, Forman and his colleagues followed thousands of men and women for 16 to 26 years. What they observed was that even after adjustment for race, family history, physical activity, diet and alcohol intake, the higher intake of sugar-sweetened and artificially-sweetened beverages was associated with a high risk of developing hypertension. They also noticed that fructose was not the culprit.
How these beverages increase blood pressure is not fully understood but it could be due to the salt content.
In the absence of any benefits and a high possibility of harm, the current recommendations by Forman is to avoid such beverages, though a casual soft drink every once in a while has not been deemed to be harmful.
Sources:
1. Cohen L, et al "Association of sweetened beverage intake and incident hypertension is similar between sugar-sweetened and artificially-sweetened beverages"
http://www.asn-online.org/education_and_meetings/kidneyweek/archives/.
Abstract TH-PO765.
2. Hu FB. Sugar-sweetened beverages and risk of obesity and type 2 diabetes: epidemiologic evidence.
Abstract: http://www.ncbi.nlm.nih.gov/pubmed/20138901
Reviewed November 14, 2011
by Michele Blacksberg RN
Edited by Malu Banuelos
Tags: