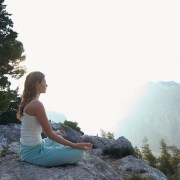 Photo: Getty Images
Many people think meditation is some kind of weird, religious thing and only Buddhist monks are supposed to do it. Others believe meditation is only for relieving stress.
The Merriam-Webster's Learning Dictionary defines meditation as the act or process of spending time in quiet thought. The National Center for Complementary and Alternative Medicine (NCAM) describes meditation as a mind-body practice.
There are many types of meditation, and it's true, many began as ancient religious and spiritual traditions. However, in recent years, researchers and practitioners have discovered that meditation can help treat a wide array of physical and mental problems.

Below are 20 conditions that may be cured or eased by practicing meditation on a daily basis.
1. Addictive behaviors (drug, nicotine, and alcohol)
2. Anxiety
3. Arthritis
4. Asthmatic symptoms
5. Attention Deficient Disorder (ADD)
6. Back Pain
7. Chemotherapy side effects
8. Depression
9. Fibromyalgia
10. Gastroesophageal reflux disease (GERD)
11. Grief
12. Headaches/Migraines
13. High blood pressure
14. Hot Flashes
15. Immune system disorders
16. Insomnia
17. Irritable Bowel Syndrome (IBS)
18. Memory loss
19. PMS
20. Stress
Researchers are not suggesting that you throw away your prescription medication. That is a decision only you, and your doctor, can make. However, practicing meditation on a regular basis, in conjunction with over-the-counter drugs or prescribed medication, may bring additional relief to your conditions.
The good news is, if done correctly, meditation has no known side effects and may be your long-term answer to happiness and good health.
Check out the sources below to learn more about meditation. You can also find a great beginner's guide at the following site: http://stopandbreathe.com/2011/03/04/meditation-101-a-10-step-beginners-guide/
Sources:
http://www.learnersdictionary.com/search/meditation
http://www.webmd.com/balance/news/20110406/meditation-may-reduce-pain
http://www.huffingtonpost.com/dharma-singh-khalsa-md/meditation-memory-loss_b_863932.html
http://www.goodhousekeeping.com/health/stress/meditation-body-system-0205
Meditation: A simple, fast way to reduce stress
http://www.mayoclinic.com/health/meditation/HQ01070
Reviewed August 1, 2011
by Michele Blacksberg R.N.
Edited by Shannon Koehle