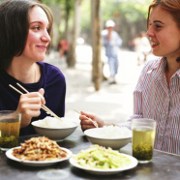 Photo: Getty Images
The obesity epidemic may be a worldwide issue, but according to WebMD.com, Japan's obesity rate of 3 percent is the lowest in the industrialized world. Many researchers claim that Japan's obesity levels are so low due to their healthy diet consisting of balanced foods and controlled portions.
The Japanese diet has also been linked to overall healthier and longer lives. Japanese people are known to have the highest life rates, and webmd.com said, "They can also anticipate an average of 75 years lived healthy and disability-free, the World Health Organization reports." Because the Japanese diet contains a variety of low-fat and low-calorie foods, individuals gain many health benefits and are at a lower risk for health issues related to a poor diet.
Rather than piling foods on a plate, the Japanese find it important to arrange meals in an appealing way. Everydiet.org explains that when food is thoughtfully displayed, individuals are more likely to fully enjoy each bite. Savoring food and eating slowly can also cause people to eat less because they have more reaction time to register when the stomach is full.
Portion control is another significant part of the Japanese diet. On WebMD.com, Naomi Moriyama, co-author of "Japanese Women Don't Get Old or Fat: Secrets of My Mother's Tokyo Kitchen," said that unlike serving a lot of food on a large plate in America, Japan divides food among smaller plates and bowls. Eating smaller servings forces individuals to eat recommended food servings while also cutting overall daily calories. When portions are smaller, it is also less tempting to overeat because just the right amount of food is set out rather than too much food. According to WebMD.com, "Research shows that when we're served more, we tend to eat it - whether we planned to and were hungry for it or not."
Japanese Diet Foods
Fish
The Pittsburgh Post-Gazette explains that because so much of Japan's land is filled with forests, mountains, cities and rice fields, the country uses the sea as a main food resource. Fish rich in omega-3 fatty acids such as salmon, sardines and tuna are staples in the Japanese diet. Because Japan consumes so much fish, the country eats less red meat which is linked to health issues like heart disease, said WebMD.com.
Rice
Rice fields throughout Japan make rice another primary food in the Japanese diet. Although rice is a carb, it is low-fat and filling, which can help individuals restrain themselves from eating unhealthy foods to feel full. According to WebMD.com, in Japan individuals eat cooked rice without butter or oils with almost every meal.
Soy
The protein soy is common in many Japanese foods such as edamame (soy) beans, miso soup, tofu and soy sauce. Soy has little fat and can serve as a healthier protein compared to red meat. "Japanese meals often include more than one soy-based dish," WebMD.com said.
Vegetables
As many as four to five varieties of vegetables are present in Japanese meals throughout the day, said WebMD.com. Some common vegetables in the Japanese diet include zucchini, onion, eggplant, bamboo, shiitake mushrooms, daikon, seaweed, tomatoes, carrots and bell peppers. When prepared for Japanese meals, vegetables retain their nutrition because they are most often stir-fried in a little oil or steamed, according to WebMD.com.
Breakfast
Everydiet.org said that breakfast is the main meal of the day in Japan. Eating a variety of healthy foods in the morning helps power individuals and prepare them for the day ahead. In her book, "Moriyama introduces dieters to the concept of the Japanese power breakfast, which consists of miso soup, rice, egg or fish, vegetables, fruit and green tea," Everydiet.org said.
Dessert
A fruit salad made of fresh, seasonal fruits arranged nicely is a common dessert in Japan. The Japanese also consume fattier dessert choices such as cookies and cake, but they eat them in smaller portions than in America.
Resources:
Diets of the World: The Japanese Diet. WebMD. Web. 24 Aug. 2011. http://www.webmd.com/diet/features/diets-of-world-japanese-diet
Homestyle Japanese: Cuisine is good for you, simple and trendy. Pittsburgh Post-Gazette. Web. 24 Aug. 2011. http://www.post-gazette.com/pg/07109/779094-34.stm
Japanese Diet. Everydiet. Web. 24 Aug. 2011. http://www.everydiet.org/diet/japanese-diet
Reviewed on August 25, 2011
by Maryann Gromisch
Edited by Jody Smith