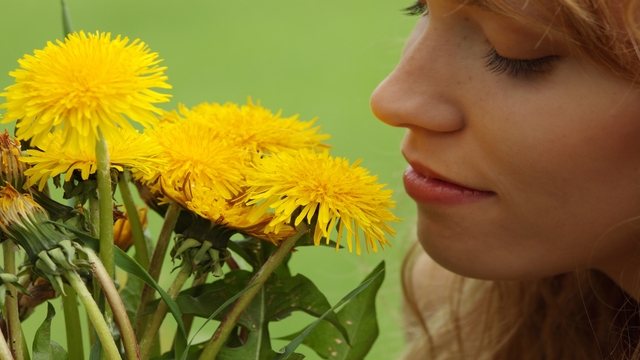 B-D-S/PhotoSpin
It's as plain as the nose on your face. The sense of smell is a very powerful emotional trigger.
Scientific studies have long shown smell, one of our oldest senses, has the uncanny power to stir up memories and transport us to another place. It can help relax us after a stressful day, reduce pain, or make us feel queasy.
There's even a good chance your nose can get you to spend more money or arouse you to select a life partner.
The late Thalassa Cruso, the "Julia Child of horticulture", perhaps said it best. "The sense of smell can be extraordinarily evocative; bringing back pictures as sharp as photographs of scenes that had left the conscious mind."
It's all in a day's work for the unassuming nose.
Take aromatherapy, the use of essential oils to alter mood or improve health. The practice gained new popularity about a decade ago.
It's considered by many to be a safe and natural way to help people cope with stress, chronic pain, nausea, and depression, and to produce a feeling of well-being.
In fact, breathing in aromatic oil scents such as Roman chamomile, geranium, lavender or cedarwood is recognized by the National Cancer Institute as a complementary and alternative medicine (CAM) therapy for patients with cancer.
Aromatic oil scents are primarily used as supportive care, to help ease the side effects of traditional therapies.
Proponents claim aromatherapy can also help relieve bacterial infections, stimulate the immune system, and fight colds, flu, and sore throats. They believe that aromatherapy can improve urine production and increase circulation.
Some maintain that it can cure cystitis, herpes simplex, acne, headaches, indigestion, premenstrual syndrome, muscle tension and even cancer.
Available scientific evidence doesn't support claims that aromatherapy cures or prevents any disease. However, according to the American Cancer Society there are studies which do show that breathing the vapors of peppermint, ginger, and cardamom oil seems to relieve nausea caused by chemotherapy and radiation. It also seems to help prevent illness-related depression.
Aromatherapy practioners believe fragrances from different oils have specific health benefits. For example, lavender oil is used to relieve muscle tension, anxiety, and insomnia.
If you are looking for that special someone, he or she might be under your very nose. Sniffing out your next soul mate is a trend catching on around the country, even replacing dating search sites.
Pheromone Parties are a modern-day adaptation of using the more primitive parts of the brain to sniff out an attractive mate, something all mammals seem to have in common.
Sexual attraction is as much based on how someone smells naturally as his or her aesthetic qualities, according to Rachel Herz, an expert on the psychology of smell at Brown University, and author of The Scent of Desire: Discovering Our Enigmatic Sense of Smell.
"For heterosexual women, smell turns out to be the number one physical factor, as well as the most important social factor, aside from pleasantness. And this isn't about avoiding a man who smells 'bad'," she said, "but rather about being especially attracted to a man who smells 'good'. "
Giving the nose a dose of the holidays also works for increasing Christmas sales receipts too. Researchers, marketers and retailers have known for decades that certain scents — pine boughs at Christmas, baked cookies in a house for sale — can get customers in the buying spirit.
Eric Spangenberg, Dean at Washington State University's College of Business, is a pioneer in using smell to spur retail sales. He's been homing in on just what makes the most commercially inspiring odor. Recently he worked with researchers in Switzerland and together they found that simple scents work best.
Writing in the Journal of Retailing, the researchers describe exposing hundreds of Swiss shoppers to simple and complex scents. Cash register receipts and in-store interviews revealed a significant bump in sales when the uncomplicated scent filled in the air.
Spangenberg's team developed a simple orange scent and a more complicated orange-basil blended with green tea. Over 18 weekdays, the researchers observed more than 400 customers' buying habits in a home store, as the air smelled of the simple scent, the complex scent or no particular scent at all.
The researchers noticed that one group of about 100 people on average spent 20 percent more money, buying more items while shopping in the presence of the simple orange scent. Talk about paying through the nose.
The simple scent worked best, the researchers say, because it is more easily processed in the brain, freeing the customer's mind to focus on shopping and spending their cash.
Past studies point to aromas stimulating smell and emotion, which are located in the same network of neural structures, called the limbic system.
The limbic system is the ancient core of the brain, sometimes called the rhinencephalon – literally, the "nose brain". This indicates, quite remarkably, that our ability to experience and express emotion grew directly out of our brain's ability to process smell for good or bad.
"No other sensory system has this kind of privileged and direct access to the part of brain that controls our emotions," said Herz.
Lynette Summerill is an award-winning writer and Scuba enthusiast who lives in San Diego with her husband and two beach loving dogs. Besides writing about cancer-related issues for EmpowHER, her work has been seen in newspapers and magazines around the world.
Sources:
Aromatherapy and Essetial Oils Overview. National Cancer Institute. Accessedonline 26 November 2012 at:
http://www.cancer.gov/cancertopics/pdq/cam/aromatherapy/patient
http://www.cancer.gov/cancertopics/pdq/cam/aromatherapy/
Aromatherapy. American Cancer Society. Accessed online 26 November 2012 at:
http://www.cancer.org/treatment/treatmentsandsideeffects/complementaryandalternativemedicine/herbsvitaminsandminerals/aromatherapy?sitearea=ETO
Quotes taken from The Scent of Desire: Discovering our enigmatic sense of smell by Rachel Herz, William Marrow/Harper Collins (2007) and an interview with Herz in Fragrance Forum, the newsletter of the Fragrance Foundation USA, Fall/Winter 2007/08. Also see
http://www.rachelherz.com
Smells Like Christmas Spirit. Washington State University Press Release via Eurekalert. 26 November 2012
http://www.eurekalert.org/pub_releases/2012-11/wsu-slc112112.php
Reviewed November 27, 2012
by Michele Blacksberg RN
Edited by Jody Smith