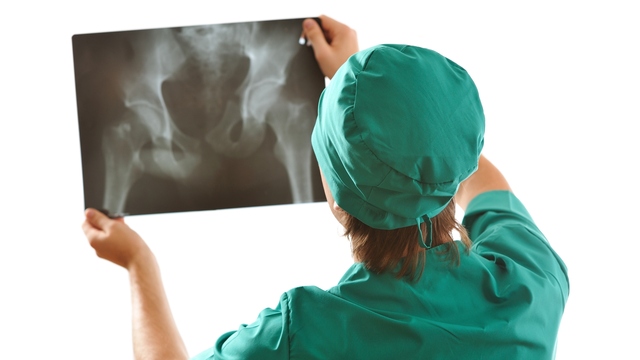 Nikolai Okhitin/PhotoSpin
Women who have moderate to severe hot flashes or night sweats during menopause may be at higher risk for problems with their bones, according to a new study published in the Journal of Clinical Endocrinology & Metabolism.
Researchers at 40 clinical centers across the United States examined data from more than 23,000 women who participated in the Women's Health Initiative (WHI) clinical trial.
The data revealed that women who have hot flashes or night sweats during menopause tend to have lower bone density than their peers and were more likely to fracture a hip.
Menopause is the time of life when a woman stops having her period. This "change of life" begins when the levels of the hormones estrogen and progesterone decline as a natural part of aging.
About 60 percent of women going through menopause experience hot flashes as their hormone levels decline. This transition and the associated symptoms can last for several years.
Another common side effect of menopause is reduced bone mineral density. Old bone is continuously replaced by the body with new, healthy bone. Estrogen helps control how fast old bone is lost.
As estrogen levels decline during menopause, the body may begin to break down bone faster than it can be replaced. This can cause bones to become weak and brittle, resulting in osteoporosis.
Brittle bones are more likely to break than strong bone, so women tend to be at higher risk of breaking bones after menopause than before.
Carolyn J. Crandall, MD, MS, from the David Geffen School of Medicine at the University of California, Los Angeles was one of the authors of the cohort study. She said, "Our findings suggest women who exhibit moderate or severe menopausal symptoms are more likely to have issues with bone health than their peers."
According to Crandall this study is the first of its kind to examine the relationship between menopausal symptoms and bone health in menopausal women.
Women who provided data used in the study were between the ages of 50 and 79. The women were tracked for an average of eight years.
During the follow-up period, 4,867 of the women had their bone mineral density measured.
The researchers determined that women who reported having moderate to severe hot flashes during menopause were more likely to fracture a hip during the follow-up period than women who did not report menopausal symptoms.
The researchers also adjusted the data for age, body mass index and demographic factors and determined that women who had moderate to severe menopausal symptoms also had lower bone density in their neck and spine than women with no menopausal symptoms.
Crandall stated that more research is needed to explain the connection between menopausal symptoms and bone health.
She said, "Women who have hot flashes and want to protect their bones may benefit from healthy lifestyle habits such as avoiding smoking and excessive alcohol consumption, exercising and getting sufficient calcium and vitamin D."
Sources:
Science Daily. Hot flashes linked to increased risk of hip fracture. Web. January 14, 2015.
http://www.sciencedaily.com/releases/2014/12/141218131249.htm
Medline Plus. Severe Hot Flashes During Menopause May Raise Hip Fracture Risk Later: Study. Randy Dotinga. Web. January 14, 2015.
http://www.nlm.nih.gov/medlineplus/news/fullstory_150048.html
National Institute on Aging. Age Page: Menopause. Web. January 14, 2015.
http://www.nia.nih.gov/health/publication/menopause
Reviewed January 16, 2015
by Michele Blacksberg RN
Edited by Jody Smith
Tags: