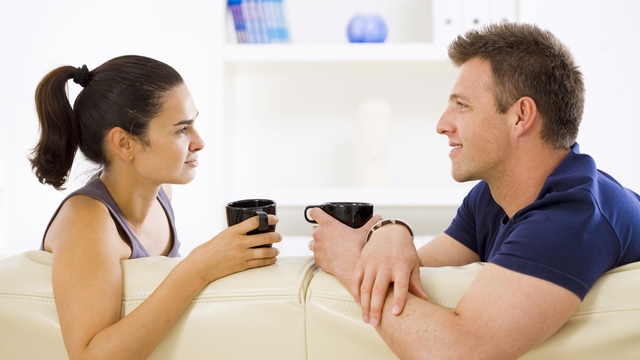 MonkeyBusiness Images/PhotoSpin
You may know some basic information about the human papillomavirus, but do you know how to bring up your diagnosis with your current sexual partner?
Dr. Pari Ghodsi, a gynecologist and obstetrician at Presbyterian Hospital of Plano, said in an email that it's important to first determine what type of HPV you have (with the help of a doctor) before talking to a sexual partner.
There are numerous strains that can lead to different conditions like genital warts, abnormal pap smears, cervical cancer, vaginal cancer, anal cancer or oral cancer.
She suggested bringing up the following information when talking to a sexual partner about HPV:
1) Keep in mind that most people will come in contact with at least one strain of HPV in a lifetime, and if you have HPV it doesn't mean that you are promiscuous, or living an excessively risky lifestyle.
2) Anyone who has sex can get HPV, and even receiving the vaccine won't protect you entirely from the few strains covered by the vaccine. Condoms will not protect you 100 percent either.
3) The good news is that most people who are exposed to HPV will be "clear" of the virus within two years, and it's rare to progress to the cervical cancer stage. However, some people do experience recurrences. People may be exposed, be "clear" of the virus, and then have it return years later.
4) Men are not usually severely impacted by HPV, although they can be carriers. There is no test to check for carrier status in men currently.
5) "Basically, it is important to emphasize how common it is amongst our population, and that most of the time it just needs to be monitored in a woman so that we can ensure it does not progress to cervical cancer," Ghodsi said.
6) "I explain to my patients how common it is and let them decide if they want to share with their partner," Ghodsi said. Sometimes it takes years to even detect HPV's presence, so it can be unclear as to when a person is exposed.
7) It's not certain why some people are infected with HPV yet don't have any side effects, while others have abnormal Pap smears and cervical cancer. However, one preventative action women can take is to avoid smoking, because cigarettes can increase the chances of HPV leading to cancer.
If some of these facts are new to you, you're not alone.
According to an online survey of 2,030 U.S. women ages 25-65, only 48 percent of the women surveyed realize that HPV infections cause most cases of cervical cancer.
Also, only 15 percent of women surveyed understood that most HPV infections will go away on their own eventually.
The survey was conducted by Nurse Practitioners in Women's Health (NPWH) and healthywomen.org in December of 2014.
Dr. Megan Indermaur, a gynecologic oncologist with Women's Cancer Associates of Women's Care Florida, provided the following suggestions for talking to a sexual partner about HPV:
1) "It is best to be open and honest with your partner; HPV is a common virus," Indermaur said in an email. "While the majority of HPV infections, including high-risk infections, will resolve on their own, certain types can lead to cervical cancer."
2) Although HPV is very common and is usually cleared out by the body's immune system, she suggested talking to male partners about having the virus, since they can develop HPV-related diseases and cancers as well.
3) It's important to understand that getting the Pap smear test and HPV test together (currently recommended for women who are 30 years old or older) helps screen for cervical cancer.
As a result of early screenings many women's lives have been saved. These tests can also help monitor current infections.
You can also let your partner know that HPV causes common hand warts, and warts on all areas of the body (not just genital warts), according to Medline Plus. Although many people only think of HPV as a sexually-transmitted infection, it can be transferred through any skin-to-skin contact.
Sources:
Ghodsi, Pari. Email interview. January 27, 2015.
http://www.doctorpari.com/about
PRNewswire.com. Trust in Cervical Cancer Screening is Strong – Extending Time Between Tests Triggers Concern. Web. January 29, 2015.
http://www.prnewswire.com/news-releases/trust-in-cervical-cancer-screening-is-strong--extending-time-between-tests-triggers-concern-300026832.html
Nurse Practitioners in Women's Health (NPWH) and healthywomen.org. Welcome to Cervical Cancer Today: A National Survey of Attitudes and Behaviors: Executive Summary. PDF provided via email. January 29, 2015.
Indermaur, Megan. Email interview. January 28, 2015.
http://www.womenscarefl.com/find-a-care-group/gynecologic-oncology/womens-cancer-associates/our-providers/megan-indermaur-md
MedlinePlus. Warts. Web. January 29, 2015.
http://www.nlm.nih.gov/medlineplus/warts.html
Reviewed January 30, 2015
by Michele Blacksberg RN
Edited by Jody Smith