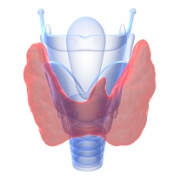 Photo: Getty Images
Surgery to remove part or all of the thyroid gland is a common treatment for thyroid cancer and goiter. All patients with complete thyroidectomy need replacement thyroid hormones, and many patients with partial thyroidectomy need the same therapy.
Dr. Andreas Schaffler of the University of Regensburg, Germany, provided a review of the treatment options. T4, also called levothyroxine or just thyroxine, is the most common therapy. Sometimes T3, also called triiodothyronine, may be used in combination with T4.
"The initiation of hormone replacement therapy is not always a simple matter," Schaffler wrote. The appropriate dosage depends on many factors, including the patient's age, weight, pregnancy status, other medications, and other health conditions. In addition, the drug brand makes a difference. Schaffler explained, "There is a widespread misconception that the various thyroid preparations on the market are identical in bioavailability. This is not so, and therefore the preparation currently being taken should not be switched if the patient is tolerating it well."
The difference between T4 and T3 is one iodine atom. Enzymes present throughout the body convert T4 to T3 as needed, in healthy individuals. Schaffler reported that as replacement therapy, T3 is generally not recommended because it is not as well tolerated as T4 and is not necessary.
However, some individuals have reported a better quality of life with a combination of T4 and T3 therapy. Schaffler suggested that these patients may have problems with the enzyme that normally converts T4 to T3. So far, there is no test to determine which patients may benefit from combination T4/T3 therapy.
T3 replacement is important for patients who receive thyroid surgery and radio-iodine treatment at a later time. T3 has a shorter half-life than T4, and Schaffler reported this is a benefit for patients awaiting radio-iodine treatment.
Pregnant women need more T4. Dr. Megan R. Haymart of the University of Michigan and colleagues at the University of Wisconsin reported that women who are on T4 replacement therapy often need a 30 to 50 percent increase in dose during pregnancy. This is most important during the first trimester.
The web site Drugs.com lists five brand names for T4 replacement drugs available in the United States. The generic name is levothyroxine sodium.
1. Levothyroid
2. Levoxyl
3. Synthroid
4. Tyrosint
5. Unithroid
Drugs.com lists two brand names for T3 replacement drugs. The generic name is liothyronine sodium.
1. Cytomel (tablets)
2. Triostat (injection)
References:
1. Schaffler A, "Hormone replacement after thyroid and parathyroid surgery", Dtsch Arztebl Int 2010; 107(47): 827. http://www.ncbi.nlm.nih.gov/pubmed/21173898
2. Haymart MR et al, "Thyroid replacement in women of reproductive age: Is surgeon knowledge related to operative volume?", Thyroid 2010; 20(6): 627.
http://www.ncbi.nlm.nih.gov/pubmed/20469966
3. Drugs.com. Levothyroxine Sodium. Web. Sept. 16, 2011.
http://www.drugs.com/ppa/levothyroxine-sodium-t4-l-thyroxine.html
4. Drugs.com. Liothyronine Sodium. Web. Sept. 16, 2011.
http://www.drugs.com/ppa/liothyronine-sodium-t3-triiodothyronine.html
Linda Fugate is a scientist and writer in Austin, Texas. She has a Ph.D. in Physics and an M.S. in Macromolecular Science and Engineering. Her background includes academic and industrial research in materials science. She currently writes song lyrics and health articles.
Reviewed September 21, 2011
by Michele Blacksberg RN
Edited by Jody Smith
Tags: