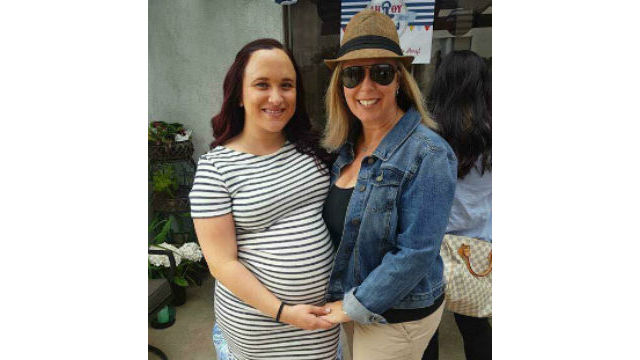 All images courtesy of Amy and Elizabeth Rafieyan.
Sponsored by: The Stork® OTC
In this period of great national stress, it is time for a love story.
Amy and Elizabeth Rafieyan met at a mutual friend's Super Bowl party. Elizabeth came to the party late, at halftime.
"When she walked in the room, no one else existed," said Amy.
It was love at first sight. Amy was convinced that she met her wife that night. Happily, Elizabeth went home and told her friend the same thing.
This happened in 2011. They were both right — the two women married in 2014.
However, as with all adult love stories, "happily ever after" requires some bumps and struggles. It is what keeps life interesting and makes the happiness even brighter.
Amy and Elizabeth were smitten with one another and wanted to start a family. About a year after their wedding, they started to try, recognizing that there can be just as many challenges for two women to conceive as for a heterosexual couple.
"It was exhausting for me! Shopping for sperm is very taxing. I wanted to make sure that we found a donor that matched more of my characteristics, since the baby would have Elizabeth's features," Amy remembered.
Amy has two grown children and wanted to ensure that everything, from a high education to good teeth, was taken into consideration.
Amy got quiet when she recalled, "It was a little hard."
"It was also important that if we were going to pay top dollar the sperm that we got must be top-notch sperm! I wanted him to be the perfect person for us," Elizabeth piped in.
It took six months for the decision to be made, and for 12 vials to arrive at their doorstep. Amy and Elizabeth decided that they wanted the experience to be intimate for Amy as the designated "inseminator." If that didn't work, they would resort to the fertility doctor.
"There were lots of Amazon packages with syringes and cups," Amy laughed.
Elizabeth tracked her period using an app, which gave her the one-week window where ovulation might be likely. She used ovulation kits during that week, trying in the first month with three vials on three separate dates, an insemination kit, and her loving wife.
They were committed and convinced that their research and efforts would pay off.
It didn't.
They were at Walt Disney World when Elizabeth got her period and Amy took it hard.
"I was so confident that we were going to hit it," she said. "Elizabeth is a gold star. I was devastated when it didn't happen immediately. It was a realization moment that I really, truly wanted to have a baby."
They decided to be even more aggressive in the second month, coming across the website for The Stork® OTC. Elizabeth watched their YouTube video and sent Amy a link. She bought two devices, one to try in month two of pregnancy attempts and one to try in month three.
The second month of at-home fertility treatments was not ideal for either of them. Both Amy and Elizabeth found themselves with hectic schedules and only one possible night to try. They used The Stork® OTC after Elizabeth read the instructions "over 50 times," even though there were only three steps.
The device worked as it said it would, but they were not successful.
"I had a feeling we missed my ovulation by one day," Elizabeth said sadly.
By the third month, Elizabeth was taking ovulation tests at least once a day. They had pre-seed lubricant, The Stork® OTC, and the will to get it right. When Elizabeth found out she was ovulating, they were about to go to a party. They immediately cancelled to focus on the insemination.
"I better get pregnant this time," joking to her wife, "I'll never forgive you!" Elizabeth said.
Even though it hadn't been long, she was almost ready to go to the doctor, not wanting to waste any more of the sperm that they purchased.
Fortunately, their relationship wouldn't be tested. Eight or 9 days after the insemination, Elizabeth got a positive pregnancy test.
"I woke up at 5 a.m.," Elizabeth said. "I really wanted to take a pregnancy test. I left it on the counter and went back to bed. I got up hours later and saw a pink line."
She was overjoyed and made a tearful YouTube video where she told Amy the news.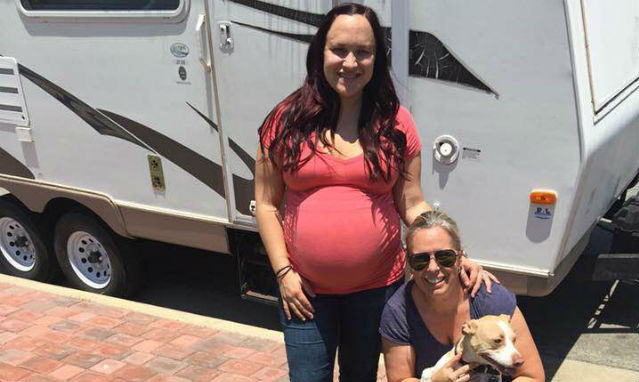 "We have talked to a few more couples since then with the same struggles," Amy said. "My parents went through fertility struggles. I was adopted. I have more of an understanding. The blessing of having a child is wonderful. On our YouTube channel we have been getting lots of comments from heterosexual and homosexual couples. It's not a gay thing, it's a human thing."
When asked what advice they would give to couples attempting to have a child, Elizabeth insisted that it is important not to feel inferior if they have to try other things.
"There is so much out there," she declared.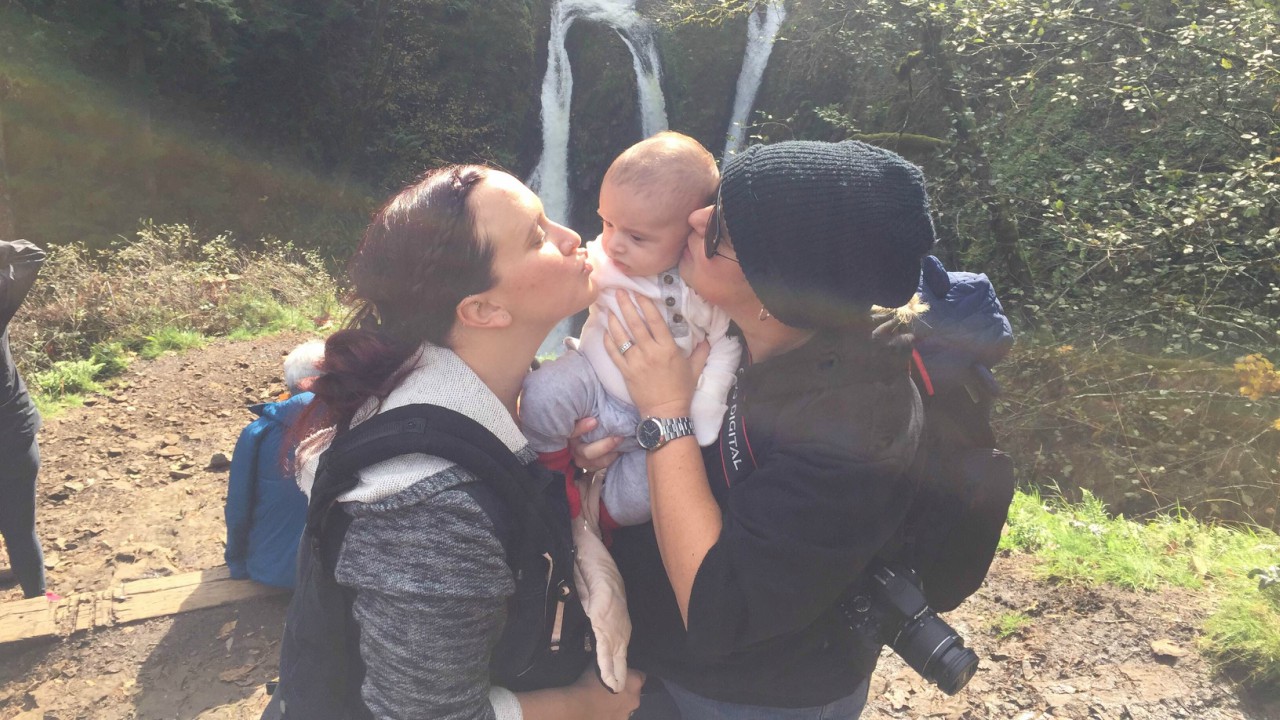 Three months ago, Jameson Roy was born.
"J is everything that we hoped for and wanted," the proud mothers cooed.
Amy and Elizabeth are overjoyed, wondering when they should try for baby number two.
Reviewed November 7, 2016-11-07
by Michele Blacksberg RN
Edited by Jody Smith