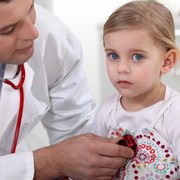 Auremar/PhotoSpin
Many factors in recent years have led pediatricians to think twice before prescribing antibiotics for childhood maladies. And now there's another possible factor.
Researchers believe antibiotic use, especially in early childhood, might be associated with a greater risk of inflammatory bowel disease.
An article in the October 2012 issue of the journal Pediatrics cites new research on IBD risk.
It is a timely topic given that IBD -- which includes ulcerative colitis and Crohn's disease -- is on the rise among children.
The objective of the research, which looked at data for more than a million children in the United Kingdom, was to determine whether antianaerobic antibiotic exposure during childhood was associated with IBD development.
The particular antibiotic agents were: penicillin, amoxicillin, ampicillin, penicillin/b-lactamase inhibitor combinations, tetracyclines, clindamycin, metronidazole, cefoxitin, carbapenems and oral vancomycin, according to the article's abstract.
Exposure to antibiotics before the age of 1 year posed the greatest hazard, with the hazard risk decreasing incrementally as children aged. The hazard ratios were: 5.51 for exposure before age 1, 2.62 for exposure by age 5, and 1.57 for exposure by age 15.
In addition, the research found that each course of antibiotics increased the IBD hazard by 6 percent.
Each year in the United States, healthcare practitioners write antibiotic prescriptions for children to the tune of about 49 million, according to WebMD.
If you were to apply the U.K. data to that figure, that could mean as many as 1,700 additional IBD cases per year in the United States.
"We need to be judicious in our use of antibiotics," researcher Matthew P. Kronman of the Seattle Children's Hospital's division of infectious diseases told WebMD.
"Antibiotics should be used when needed. But too many children are still getting them for conditions like the common cold, where they do no good."
Meanwhile, the rate of IBD among children has doubled over the last decade, and a study as large as the UK one has the medical world wondering whether part of the problem lies with antibiotic use.
Whether it's an ear infection, sinus infection or other childhood illness, antibiotics can efficiently kill the bacteria behind the infection. Unfortunately, the drugs also kill good bacteria that keep the bowel healthy.
Fellow researcher Theoklis E. Zaoutis of the Children's Hospital of Philadelphia cautioned that his team's findings add to the evidence about antibiotic use and IBD but do not actually prove a link.
Sources:
"Antibiotic Exposure and IBD Development Among Children: A Population-Based Cohort Study (Abstract)." Pediatrics. Web. 1 October 2012.
http://pediatrics.aappublications.org/content/early/2012/09/19/peds.2011...
Boyles, Salynn. "Antibiotics May Raise Bowel Disease Risk in Kids." WebMD. Web. 1 October 2012.
http://www.webmd.com/ibd-crohns-disease/news/20120924/antibiotics-bowel-...
Phend, Crystal. "Antibiotics Tied to IBD in Kids." MedPage Today. Web. 1 October 2012.
http://www.medpagetoday.com/Gastroenterology/InflammatoryBowelDisease/34924
Reviewed October 2, 2012
by Michele Blacksberg RN
Edited by Jody Smith