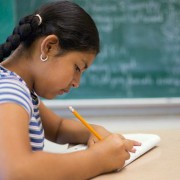 Photo: Getty Images
Back-to-school jitters take on an extra dimension when your child has an inflammatory bowel disease, whether it be ulcerative colitis, Crohn's disease or a related IBD. As a parent, you are justified in having concerns that your child will make it through each school day without emergency trips to the bathroom, pain or other symptoms.
Inflammatory bowel disease affects more than 1.5 million Americans, with 10 percent of that number being children, according to an estimate from the Mayo Clinic. The average age at which children are diagnosed with ulcerative colitis or Crohn's disease is 12, noted a website called IBDkids.org from the Children's IBD Center at Mount Sinai Hospital in New York. Ten percent of the center's patients were diagnosed before age five, however.
IBD is an inflammation of the intestinal lining for which there is no cure, although medication can often control it and/or put it in remission. When it does occur, it brings watery diarrhea, rectal bleeding, abdominal cramps and pain, fever, weight loss and other symptoms.
Experts in the field of pediatric IBD offer many suggestions for easing the transition from summer vacation -- when parents can keep a better eye on their child's condition -- to school-day schedules:
First, let the school know about your child's condition, advises Amber J. Tresca, the About.com guide for IBD. Notify the principal and school nurse. Find out who will be administering your child's medication during the school day and give them a doctor's note with specifics on the dosage, intervals and potential side effects. Find out how the school deals with makeup assignments for children who have long absences due to a chronic illness.
Second, inquire with the school about the Individuals with Disabilities Education Act (IDEA), which ensures that school-age children with disabilities receive proper accommodations in the classroom. Section 504 of the federal Rehabilitation Act is another course of action. IBD in most cases will count as a disability.
Third, learn about organizations that advocate for those with IBD. For instance, the Crohn's & Colitis Foundation of America has information for parents on educational equity, guides for teachers, pep talks for kids and teens, as well as a link to UCandCrohns.org, which features teens talking about their IBD through videos and chat rooms.
Lastly, keep your healthcare practitioner in the loop and express any concerns about your child's ability to cope with school routines while dealing with IBD symptoms. The Mayo Clinic and other experts said it's important to take a holistic approach that includes dialoguing with parents and teachers and calling in any needed specialists, whether they be pediatric gastroenterologists, nutritionists, surgeons, endocrinologists or psychologists.
Sources:
Inflammatory Bowel Disease Center for Children at Mayo Clinic
http://www.mayoclinic.org/gi-rst/peds-ibd.html
Sending a Chronically Ill Child to School
http://ibdcrohns.about.com/od/parents/a/kidsschool.htm
What is IBD?
http://www.ibdkids.org/about
Resources for Parents, Teens, and Kids
http://www.ccfa.org/kidsteens/?LMI=9
Reviewed August 10, 2011
by Michele Blacksberg R.N.
Edited by Jody Smith