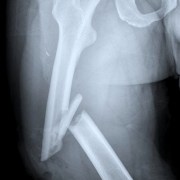 Photo: Getty Images
Low bone mineral density and osteoporosis are common in patients with inflammatory bowel disease. Dr. Pal Miheller and colleagues at Semmelweis University in Budapest, Hungary, provided a review of the risks and treatment options. The medical literature contains a wide variation in reports of this condition, he noted, because different studies have used different methods and definitions.
There are two definitions of low bone mineral density. One is based on the young adult mean, and called the T-score. The other is based on age matched controls, and is called the Z-score. Since inflammatory bowel disease is often diagnosed before the patient reaches the age of maximum bone density, Miheller explained that the Z-score is more appropriate. Low bone mineral density is a value at least one standard deviation, but not more than 2.5 standard deviations, below normal. Osteoporosis is defined by a value too low by more than 2.5 standard deviations. The rate of osteoporosis in inflammatory bowel disease has been reported as anywhere from 12 percent to 42 percent.
Fractures are more common in people with low bone mass, especially those with outright osteoporosis. Miheller reported that guidelines of The American Gastroenterological Association and the British Society of Gastroenterology recommend that physicians evaluate the risk of fracture and screen patients at high risk. The standard measurement technique is dual X-ray absorption (DEXA).
The first line of defense against bone loss is healthy lifestyle, Miheller noted. Recommendations include:
1. Stop smoking.
2. Avoid excessive alcohol consumption.
3. Get regular exercise.
4. Consume adequate calcium and vitamin D.
If these measures are not sufficient, then osteoporosis drugs including bisphosphonates may be beneficial.
Bone loss is associated with inflammatory conditions in general, according to a review by Dr. R. Hardy and Dr. M. S. Cooper of the University of Birmingham, UK. There are multiple mechanisms for this, including disruption of the bone remodeling cycle. In healthy adults, 3 percent of our compact bone mass and 25 percent of our porous bone mass are replaced each year. Inflammation can shift the balance between growth and resorption, producing a net loss, or in rare cases, a net gain of bone mass. Corticosteroids used to treat inflammation can produce bone loss as a side effect, but at the same time, they reduce inflammation which also causes bone loss.
Miheller concluded that physicians should be vigilant in monitoring patients for bone loss as part of the treatment for inflammatory bowel disease.
References:
1. Miheller P et al, "Clinical relevance of changes in bone metabolism in inflammatory bowel disease", World Journal of Gastroenterology 2010 November 28; 16(44): 5536-42. http://www.ncbi.nlm.nih.gov/pubmed/21105186
2. Hardy R et al, "Bone loss in inflammatory disorders", Journal of Endocrinology 2009; 201: 309-320.
http://www.ncbi.nlm.nih.gov/pubmed/19443863
Reviewed June 16, 2011
Edited by Alison Stanton
Linda Fugate is a scientist and writer in Austin, Texas. She has a Ph.D. in Physics and an M.S. in Macromolecular Science and Engineering. Her background includes academic and industrial research in materials science. She currently writes song lyrics and health articles.