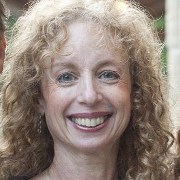 Photo: Elaine Metlin
"I won't be defined by my disease."
That's a more powerful statement than you might realize, and lately it's been rewarding to hear it from a number of Americans living with Crohn's disease, an autoimmune disorder of the digestive system. It's a chronic condition with lasting repercussions on physical and emotional health if not properly managed. Medical experts continue to seek answers on prevention and treatment.
I had the privilege of conducting an interview by email with attorney Elaine Metlin, 60, of Washington, D.C., who is the recipient of the 2011 Florence K. Murray Award from the National Association of Women Judges. The annual award goes to someone who is not a judge, but who has played an integral role in advancing women's opportunities in the legal profession. Past recipients include former Attorney General Janet Reno and Yale University's Judith Resnik. The awards dinner was scheduled for Oct. 15, 2011, in Newark, N.J., with Supreme Court Justice Ruth Bader Ginsburg as the keynote speaker.
Although Metlin's life has certainly had rough patches in her dealings with Crohn's disease, it's easy to see the disease has not defined her, not by a longshot.
Here's what Metlin had to say:
Q.

How long did it take doctors to reach a diagnosis of Crohn's disease?
A.
Several years. (She was diagnosed at 16.)


Q.
Was being an attorney an aspiration from an early age?
A.
Actually, no.  I always thought I'd be a teacher (remember, I grew up in the '50s and '60s).  I changed my mind in college after the advent of the women's movement.


Q.
What are a few examples of your advocacy for women in the law?
A.
In the mid-'90s, I and several other women at my firm drafted an alternative work arrangement policy that was cutting-edge at the time and continues to serve as an example for many other firms.  We offered partnership on a 50 percent-reduced schedule and payment for time worked over and above the arrangement.  We also instituted backup nanny care.  In other roles at the firm, from hiring chair to chair of professional development to serving on the compensation advisory committee, I've advocated for policies and practices to attract, retain and promote women attorneys. I've also mentored many women and tried to serve as a role model. 
Q.


In general, how has the Crohn's disease been brought under control?
A.
Diet, lifestyle changes? Surgery, medications? Six surgeries, including three small-bowel resections.  Medication -- and now I am in a clinical trial for a new medicine for Crohn's.  I also get regular massage.


Q.
What are a few of your career highlights?
A.
After my clerkship, I went to Dickstein Shapiro (in Washington, D.C.), where I've been a litigator for 27 years.  My biggest case was the Vitamins Antitrust Litigation, where we represented a number of large corporations that sued chemical manufacturers for price fixing.  I also represented a number of high profile government officials in the Clinton administration.  I serve on the board of directors of the Washington Lawyers Committee and co-chair the International Litigation Committee of the ABA International Section.  I co-chair the Resource Board of the National Association of Women Judges and am a founding member of the D.C. chapter of WLMA (Women's Leadership and Mentoring Alliance).
Q.
Tell me about your family.
A.
My husband is Andrew Clark. My oldest daughter, Emilie Raguso, is 33. My younger daughters are Susannah Clark (17) and Madeline Clark (13).  (Yes, that's right, the oldest and youngest are 20 years apart!)
Q.
Ms. Metlin, were your parents and other family members supportive during the years when you were trying to find the right treatments? Supportive in what ways?
A.
My family was always very supportive when I was sick.  In high school, I had three surgeries in six months.  My parents, especially my mom, spent a huge amount of time at the hospital.  My five siblings really had to take a back seat to my health problems, and they never complained.  Most importantly, they didn't pity me or ever make me think that I could not achieve my goals because of my health issues.  That was a vitally important lesson. 
Q.
What are two or three examples of times when your condition interfered with your daily work life? Is there an example of when it influenced a major decision regarding your career path?
A.
Twice when I was on the road, I ended up in hospital emergency rooms with obstructions.  I was admitted to the hospital because of an obstruction while I was on a business trip in Salt Lake City.  I tried not to let the Crohn's interfere too much with work because I was a single mom, the sole support of my daughter.  Even though practicing law full time was hard and stressful, I loved it.  And when I had my last resection in 1990, my firm was very supportive.
Q.
At which time in your life did you face one of your hardest stretches, emotionally and physically? What were the circumstances?
A.
The worst time was in my 20s.  My baby was about a year old.  My husband was self-employed and we lost our health insurance.  Then we separated. The Crohn's was raging and I was having obstructions frequently.  My doctor told me I had to have another resection, but I had no way to pay for it.  I tried to get disability coverage with Social Security but hadn't worked enough to qualify.  That period was extremely difficult.  Fortunately, I had a wonderful GI.  He treated me for free and miraculously found a surgeon to operate for free.  The Virginia Department of Vocational Rehabilitation agreed to pay for the hospital stay.  One week after I was discharged from the hospital, I took the LSAT and did very well.  That launched the beginning of my legal career.
Q.

Do you find it hard to share information about your condition with friends and coworkers? How communicative are you? And do you wish that there was generally more dialogue and awareness of Crohn's disease in society?
A.
Up to now, I have not been very communicative about my Crohn's disease. I always tried to de-emphasize it.  I never hid it, but I didn't necessarily volunteer it, either.  To tell the truth, I was embarrassed by it, especially the frequent and urgent trips to the bathroom.  That changed recently.  I went on a whitewater rafting trip with friends, and decided to tell them my concerns about being out on a raft for hours. Then, I received the email from the CCFA (Crohn's & Colitis Foundation of America) about the IBD Icons contest.  I had just learned about the Florence K. Murray award, and I was very proud -- and then it hit me that I had been able to achieve so much while living with Crohn's disease.  I wanted to inspire others, especially young people, to persevere in spite of their illnesses.  That was the reason I submitted my entry, and I am thrilled to have the opportunity to talk about Crohn's openly and to make people more aware of IBD. 
Q.
Thank you, Ms. Metlin, and congratulations on your many achievements.
If you found Metlin's story as uplifting as I did, then you might want to visit the national disease awareness campaign she mentioned at IBD Icons to read nine stories on Americans who are "icons" in their ability to keep inflammatory bowel disease from sabotaging their dreams. Voting ends on Nov. 1, 2011.
Sources:
"IBD Icons: Living Beyond Ulcerative Colitis & Crohn's Disease." Crohn's & Colitis Foundation of America, et.al. Web. 11 Oct. 2011.
https://www.ibdicons.com
Metlin, Elaine. Interview by email. 10 Oct. 2011.
Reviewed October 12, 2011
by Michele Blacksberg RN
Edited by Jody Smith