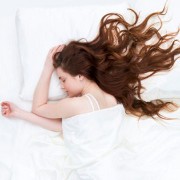 Photo: Getty Images
For thousands of years, people have been taking valerian to help them sleep, and to ease the effects of stress and anxiety.
However, if you're going to give this herbal remedy a try, you might want to put a clothespin over your nose—it is often referred to in literature as the "stinky herb."
Actually, if you take it in capsule or tablet form, you should be just fine. Having said that, we recently were out of state visiting relatives and I had placed my bottle of valerian capsules in the same bag that contained our toothbrushes and my older son definitely noticed the smell coming from the bottle as he reached into the bag to get his items. I often take valerian with me when traveling by plane for many days with my two sons, just in case I need a boost to my emotional equilibrium!
In spite of its odor, valerian appears to be quite sweet when it comes to its abilities to help us feel calmer and to get a better night's rest. Some people have also used it as both a diuretic and to help ease stomach cramps.
To make the tablets or capsules, the root of the valerian plant is typically freeze-dried into a powder. I've also seen valerian "calming" teas in the health food section of my favorite grocery store. I prefer the capsules as they are easy and quick to swallow. It is often standardized to contain 0.3-0.8 percent valerenic or valeric acid, although interestingly, researchers are not 100 percent sure that this is the key ingredient.
What scientists do believe is that valerian works by increasing the amount of gamma aminobutyric acid, or GABA, in our brains. GABA helps to modulate our nerve cells and can help reduce anxiety. The drugs Xanax and Valium, which are in the class of drugs called benzodiazepines, also work by increasing the amount of GABA in the brain.
Many people take valerian to help them fight bouts of insomnia. It is often combined in formulas with things like lemon balm, hops, and other herbal remedies that are also typically found to cause people to feel sleepy. A lot of information on valerian's effectiveness comes through anecdotal evidence; studies have tended to find both positive and negative results. According to MedlinePlus, the Natural Medicines Comprehensive Database rated valerian as "possibly effective" for insomnia, noting that it does not tend to work as quickly as sleeping pills and usually has to be taken for several weeks before a noticeable difference is seen.
Overall, valerian has been found to be safe when taken according to the directions on the bottle or box of tea. It has been classified as "Generally Recognized As Safe" or GRAS, by the United States Food and Drug Administration.
Personally, I have had good luck with valerian for its anti-anxiety powers. I don't have a problem with insomnia, but I know people who do and they too found that it was helpful. Have you ever taken valerian? If so, how did it work? Did you feel less stressed and anxious or did you sleep better at night?
References:
http://altmedicine.about.com/cs/herbsvitaminsrz/a/Valerian.htm
http://www.nlm.nih.gov/medlineplus/druginfo/natural/870.html
http://www.umm.edu/altmed/articles/valerian-000279.htm
Tags: