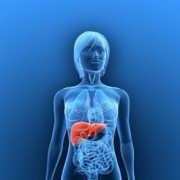 Photo: Getty Images
Like the names for many medical conditions, nonalcoholic fatty liver disease doesn't exactly roll off the tongue. That's why it's often referred to as NAFLD, and it appears that we might be hearing more about it.
At the recent annual meeting of the American College of Gastroenterology, researchers from Loyola University reported that NAFLD rates are higher than expected among Americans. Data were collected from 20,000 adults ages 20 to 85 by looking for elevated aminotransferase levels (enzymes are measured through a blood test). Key points of the research were:
-- Mexican-Americans showed the highest prevalence of NAFLD.
-- Women were more likely to have NAFLD than men.
-- A body mass index (BMI) that shows someone as obese is possibly a major risk factor.
Depending on whether "traditional" or "clinical" cutoffs were used, the prevalence of elevated aminotransferases was 15.4 percent and 39.3 percent, respectively, according to the Loyola report. A different study from the early 1990s found prevalence of NAFLD to be about 19 percent.
As defined by the Mayo Clinic, NAFLD is fat accumulation in the liver that is not related to alcohol consumption. That sets it apart from the kind of cirrhosis, or liver scarring, commonly seen in heavy drinkers.
In NAFLD, though, fat deposits can arise from obesity, diabetes or other conditions. The problem can escalate to become nonalcoholic steatohepatitis, leading to possible liver failure. The Mayo called NAFLD a growing problem and said it is currently the fastest-rising indicator for liver transplant.
Controlling NAFLD before it becomes severe is usually a matter of gradual and sustained weight loss, exercise and a healthy diet, the Mayo said.
A helpful page on the site of the American Liver Foundation spells out "Ways You Can Take Care of Your Liver." The Foundation's advice includes:
-- Eating foods from all the food groups, emphasizing fiber and de-emphasizing fatty foods
-- Limiting alcohol consumption, given that alcohol can damage or destroy liver cells
-- Managing your medications, because the wrong dosage or the wrong combination of drugs can damage the liver
-- Avoiding toxins, such as those from cleaning supplies, insecticides and other chemicals. And because it considers the additives in cigarettes to be toxins, the Foundation also admonishes against smoking.
Also consider cutting down on soft drinks and juices. A study from 2009 in the Journal of Hepatology linked those beverages to NAFLD because of their concentration of fructose. It was a small study, however, so there's no need to eliminate them entirely just yet.
Sources:
"ACG: Fatty Liver Disease on the Rise in U.S." MedPage Today. Web. 4 Jan. 2012. http://www.medpagetoday.com/MeetingCoverage/ACG/29364
"Nonalcoholic Fatty Liver Disease." Mayo Clinic. Web. 4 Jan. 2012. http://www.mayoclinic.org/nonalcoholic-fatty-liver-disease
"Liver Health and Wellness." American Liver Foundation. Web. 4 Jan. 2012. http://www.liverfoundation.org/abouttheliver/liverhealth
"Soda Pop and Natural Juices Increase Incidence of Fatty Liver Disease." NaturalNews.com. Web. 4 Jan. 2012. http://www.naturalnews.com/026927_liver_fat_fatty.html
Reviewed January 5, 2011
by Michele Blacksberg RN
Edited by Jody Smith
Tags: