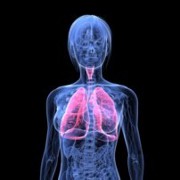 Photo: Getty Images
Case counts at hospitals show that many patients with end-stage lung disease also have GERD or gastro-oesophageal Reflux Disease (or acid reflux). Such patients have a damaged mucosal stomach lining or a weak sphincter that separates the stomach from the oesophagus. This causes the stomach contents to flow back or leak into the osesophagus and cause heartburn etc. (1)
Luckily for the lung disease patients, there is now hope with a corrective surgery that treats GERD.
A study conducted by the researchers at the University Of Pittsburgh School Of Medicine pointed out that patients of idiopathic pulmonary fibrosis or cystic fibrosis can now seek comfort in their findings. The findings suggested that esophageal testing should be performed more frequently among these patients to determine if anti-reflux surgery is needed. If it is needed it should then be performed on them.
GERD is also associated with the occurrence of Bronchiolitis Obliterans Syndrome (BOS). BOS is a non-reversible lung disease in which either fibrosis or inflammation compresses the bronchioles (tiny air ducts) partially or completely obliterates it causing death of the patient. It is suspected that micro-aspiration into the lungs due to GERD sets the stage for BOS. (2)
As per Toshitaka Hoppo, M.D., Ph.D., research assistant professor, Department of Cardiothoracic Surgery, Pitt School of Medicine, "almost one-half of the patients in our series did not have symptoms but were having clinically silent exposure to gastric fluid. Based on this finding, there should be a very low threshold for esophageal testing in this patient population." (3)
The study examined the history of 43 end-stage pulmonary disease patients who had GERD as well, and were on medication that prevented flow-back of fluid from stomach to esophagus. Out of the 43, 19 were slated for a lung transplant and 24 had already undergone the transplant. However, they all exhibited symptoms of GERD despite the medication.
After performing the anti-reflux surgery however, in both the pre- and post-transplant groups, the lung function improved and the incidences of acute rejection and pneumonia reduced in the post-transplant group. As per Dr. Jobe, "The surgery appeared to benefit even those who hadn't yet had a transplant." (4)
SOURCES:
1. Definition of GERD; MedicineNet; October, 2011; http://www.medterms.com/script/main/art.asp?articlekey=3585
2. Bronchiolitis obliterans; Wikipedia; October, 2011; http://en.wikipedia.org/wiki/Bronchiolitis_obliterans
3. Anti-Reflux Surgery Helps Airway Function Both Before and After Lung Transplant, Study Finds; Science Daily News; October, 2011; http://www.sciencedaily.com/releases/2011/09/110919164000.htm
4. Anti-Reflux Surgery Helps Airway Function Both Before and After Lung Transplant; University of Pittsburgh - School of Health Sciences Media Relations; October, 2011; http://www.upmc.com/mediarelations/newsreleases/2011/pages/anti-reflux-surgery-helps-airway-function-lungtransplant.aspx
INFORMATION IN THIS ARTICLE IS NOT MEDICAL ADVICE. ALL INFORMATION GIVEN IS TO BE CHECKED WITH YOUR DOCTOR BEFORE IMPLEMENTING OR TAKING THEM AS STANDARD OR VERIFIED.
Mamta Singh is a published author of the books
Migraines for the Informed Woman – Tips From A Sufferer
ISBN: 978-81-291-1517-1
Publisher: Rupa & Co. URL: http://www.amazon.com/Migraines-Informed-Woman-Tips-Sufferer/dp/8129115174/ref=sr_1_2?ie=UTF8&s=books&qid=1298990756&sr=1-2
Mentor Your Mind – Tested Mantras For The Busy Woman
ISBN: 978-81-207-5973-2
Publisher: Sterling Publishers; URL: http://www.amazon.com/Mentor-Your-Mind-Tested-Mantras/dp/8120759737/ref=sr_1_1?ie=UTF8&qid=1316063179&sr=8-1
and the upcoming
The Urban Woman's Integrated Fitness Guide
Publisher: Hay House India
She is also a seasoned business, creative and academic writer. She is a certified fitness instructor, personal trainer & sports nutritionist through IFA, Florida USA. Mamta is an NCFE-certified Holistic Health Therapist SAC Dip U.K. She is the lead writer and holds Expert Author status in many well-received health, fitness and nutrition sites.
She runs her own popular blogs on migraines in women and holistic health. Mamta holds a double Master's Degree in Commerce and Business. She is a registered practitioner with the UN recognised Art of Living Foundation. Please visit www.mamtasingh.com
Reviewed November 16, 2011
by Michele Blacksberg RN
Edited by Jody Smith
Tags: