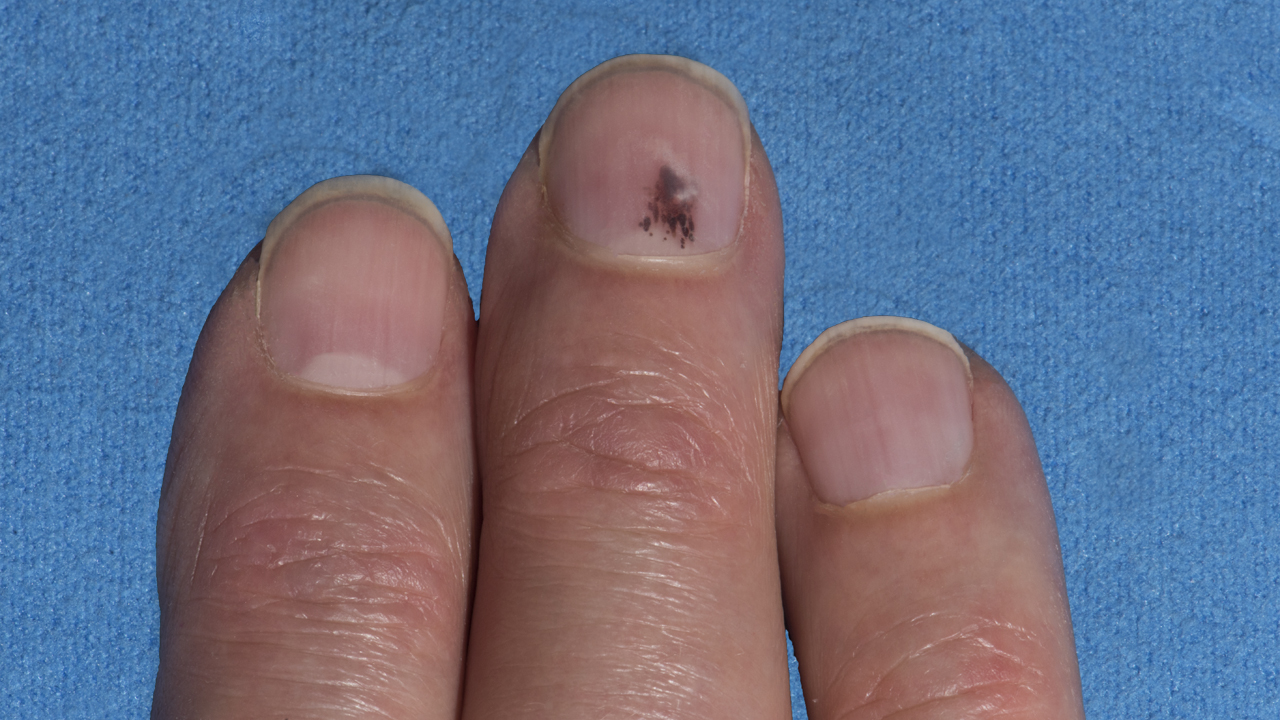 Photo courtesy of Peter Blacksberg
Ever notice a dark brown spot under your nail and wonder where it came from? I developed a brown area under my middle fingernail that looked like the nail in this photo.
While I did not remember bruising it, I was pretty sure it was a subungual bleed, or hematoma, versus melanoma under my nail, also called subungual melanoma.
This is why:
1) Melanoma under the nail usually appears as a single black or brown lengthwise band going from your nail tip to the cuticle.
2) There often is brown pigment on the surrounding skin, nail fold or elsewhere under the nail (Hutchinson's sign).
3) A band indicating melanoma most commonly appears on the thumb, index finger or nail of the great toe.
4) The area did not show more deterioration around the nail or more areas of bleeding. Instead, it was progressively moving upward as my nail grew.
The new nail formation in the "moon" part or lunula of the nail was totally clear, as was the area above the brown spot.
I checked my nail every couple of days to see how it progressed, and it grew out without a problem.
However, if you are not certain about a suspicious area on your nail, this is what should you know and do:
Contact a dermatologist. You can find one in your area <![CDATA[]]>here<![CDATA[]]>. You can select nail disorders or skin cancer as an option.
The doctor will take a medical history, inspect your nail, and also assess the rest of your skin to determine if there are any other suspicious areas that need further testing.
The doctor may use a dermoscope, which is a tool that can more closely examine nail lesions.
A dermoscope will show the pigment of melanoma as appearing brown black but the pigment of a bleed will be black purple with hues of red.(2)
The common ABC mnemonic used to evaluate melanoma on the skin[2, 3] can also be used in a modified form to exam the nail, according to Eyal K. Levit, MD.
Some versions of the mnemonic are called the ABCD, others the ABCDE, and even ABCDEF. Despite the different designations, the descriptions are basically the same.
Below is one of the descriptions concerning melanoma found beneath a fingernail or a toenail.
A) Age Range 20-90, peaking 5th - 7th decades:
African Americans, Asians, and native Americans in whom subungual melanoma accounts for up to one-third of all melanoma cases.
B) Band (nail band):
Pigment is brown or black. Breadth is 3 mm or more. Border is irregular and/or blurred.
C) Change:
Rapid increase in size and growth rate of nail band. Lack of change is seen in the failure of nail dystrophy to improve, despite adequate treatment.
D) Digit:
This is the digit that is most commonly involved.
E) Extension:
Extension of pigment involving the nail fold (Hutchinson's sign) or free edge of nail plate.
F) Family or personal history:
This means a history that includes previous melanoma or dysplastic nevus.
If you have concerns about any lesion under your nail or on your skin, don't hesitate to seek medical attention. Early diagnosis and treatment can make a difference in the outcome of a cancer finding.
Michele is an R.N. freelance writer with a special interest in woman's health care and quality of care issues.
Edited by Jody Smith
Tags: