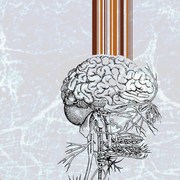 PS Productions/Photospin
The recent meningitis outbreaks from contaminated injected steroids have made front page news. Now, some of those infected have developed a serious secondary skin infection.
Epidural abscesses have erupted at the site where the steroids were originally injected near the spine to treat back or neck pain. Despite patients having received potent antifungals to treat their meningitis, these new abscesses have forced patients to return to the hospital for more IV medication and possibly surgery.
An epidural abscess and meningitis are different infections. An abscess is a localized infection that becomes filled with pus. Meningitis is an inflammation of the membrane layers that cover the spinal cord and the brain.
According to Dr. Lakshmi K. Halasyamani, chief medical officer at St. Joseph Mercy Hospital in Ann Arbor Michigan, about one-third of the 53 patients they treated have returned with abscesses.
Some patients, 34 cases, who did not develop meningitis from the contaminated steroid injections have developed abscesses and are being treated at St. Joseph's Mercy hospital. There are reports in Tennessee that a few of their patients have also developed abscesses.
The main symptom is severe pain near the injection site but the abscesses form inside the spinal area so are not apparent when examining the skin. An MRI is needed to make the diagnosis and some patients have been found to have more than one abscess.
The concern is that these patients could develop meningitis caused directly by the abscesses.
Treatment of the spinal abscesses is challenging. Draining an abscess or having it cleaned out by a neurosurgeon can resolve some of the cases. However in other cases "the fungal strands and abnormal tissue become wrapped around the spinal nerves and cannot be surgically removed", reported Dr. Carol A. Kauffman, an expert on fungal diseases at University of Michigan.
Those cases are treated with combinations of antifungal drugs in the hopes that the infection can be halted. Doctors do not have much experience dealing with this type of complicated infection. Meningitis caused by fungus is very rare.
There have also been reports that some patients have also developed another infection called arachnoiditis, which can cause inflammation of the nerves near the spine. This causes symptoms of intense pain, numbness and bladder problems.
This meningitis outbreak, first reported in September, is one of the worst public health disasters ever caused by a contaminated drug, the New York Times reported. To date, 29 people have died, often from strokes caused by the infection, and the number is still rising.
According to the New York Times, 404 people have been affected by the contaminated steroids. Of these, 112 were from Michigan, making it the state which has been most affected.
The steroid, methyprednisolone acetate, that has caused this health care disaster was made by the compounding pharmacy New England Compounding Center in Framingham, Mass.
The fungus that has caused the infections is a black mold called Exserohilum.
Three contaminated lots of drug equalling 17,000 vials were shipped around the country and 14,000 people were injected with the drug.
Inspections revealed extensive contamination at the compounding pharmacy and it was shut down along with another company owned by the same owners. The drugs have all been recalled.
Sources:
Grady, Denise. Second Illness Is Infecting Those Struck By Meningitis. New York Times. Print. Saturday, November 3, 2012. Section A, page 14.
Taber's Cyclopedic Medical Dictionary. Edition 13. F.A. Davis Company. Philadelphia,. Pennsylvania. Edited by Clayton L.Thomas. M.D. M.P.H.
Michele is an R.N. freelance writer with a special interest in woman's healthcare and quality of care issues. Other articles by Michele are at www.helium.com/users/487540/show_articles
Edited by Jody Smith