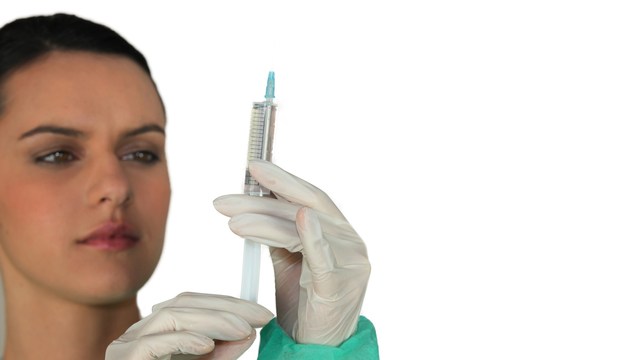 Auremar/PhotoSpin
Meningitis is a neurological condition in which the meninges, or the covering of the spinal cord and brain, become infected. The most common cause of meningitis is a viral infection, according to MedlinePlus, but meningitis can also be caused by bacteria. Bacterial meningitis can be deadly or cause significant damage to the brain.
Meningococcal meningitis is a severe and potentially fatal type of bacterial meningitis caused by the bacterium Neisseria meningitidis. Each year, about 1,500 people develop meningococcal meningitis, according to the National Meningitis Association.
Another type of bacterial meningitis is pneumococcal meningitis, caused by the bacterium Streptococcus pneumoniae. MedlinePlus stated that pneumococcal meningitis is the most common bacterial meningitis in adults, and it is the second most common among children older than 2 years of age.
H. influenzae meningitis used to be the most common bacterial meningitis in children younger than 5 years old before the creation of the vaccination, according to MedlinePlus. It currently occurs in less than 2 out of every 100,000 children. It is caused by the bacterium Haemophilus influenzae.
All three types of bacterial meningitis can be prevented with vaccinations. Two meningococcal vaccinations are available in the United States. They are meningococcal polysaccharide vaccine (MPSV4) and meningococcal conjugate vaccine (MCV4).
The two vaccines for pneumococcal meningitis are pneumococcal conjugate vaccine (PCV13) and pneumococcal polysaccharide vaccine (PPSV23). For H. influenzae meningitis, there is the Hib vaccine.
If an individual does not get these vaccines and contracts any of these types of bacterial meningitis, she may develop serious complications. For example, all three types of bacterial meningitis may cause brain damage, seizures, hearing loss, hydrocephalus and subdural effusion.
Another possible consequence of bacterial meningitis is lower achievement in school. A study conducted in Denmark followed 2,800 children who had been diagnosed with meningococcal, pneumococcal or H. influenzae meningitis between 1977 and 2007.
Reuters Health reported that by age 35, only 41 to 48 percent of these children graduated high school. In comparison, 52 to 53 percent of the control group had graduated from high school. Differences were also noted in economic self-sufficiency.
The authors hypothesized that these difference were long-term complications of pneumococcal and H. influenzae meningitis.
The same connection could not be made with lower achievement and economic self-sufficiency and meningococcal meningitis. The authors found that family members of the individuals with childhood meningococcal meningitis also had lower academic achievement, suggesting that other socio-economic factors play a role.
References
MedlinePlus Medical Encyclopedia. Meningitis. Web. 24 April 2013.
http://www.nlm.nih.gov/medlineplus/ency/article/000680.htm
National Meningitis Association. Statistics. Web. 24 April 2013.
http://www.nmaus.org/meningitis
Centers for Disease Control and Prevention. Meningococcal: Who Needs to be Vaccinated?. Web. 24 April 2013.
http://www.cdc.gov/vaccines/vpd-vac/mening/who-vaccinate.htm
Centers for Disease Control and Prevention. Pneumococcal Disease-In Short. Web. 24 April 2013.
http://www.cdc.gov/vaccines/vpd-vac/pneumo/in-short-both.htm#who
MedlinePlus Medical Encyclopedia. H. Influenzae. Web. 24 April 2013.
http://www.nlm.nih.gov/medlineplus/ency/article/000612.htm
MedlinePlus Medical Encyclopedia. Pneumococcal. Web. 24 April 2013.
http://www.nlm.nih.gov/medlineplus/ency/article/000607.htm
MedlinePlus Medical Encyclopedia. Meningitis -- Meningococcal. Web. 24 April 2013.
http://www.nlm.nih.gov/medlineplus/ency/article/000608.htm
Reuters Health. Childhood Meningitis Tied to Lower Achievement. Web. 24 April 2013.
http://www.reuters.com/article/2013/04/23/us-childhood-meningitis-idUSBRE93M1BX20130423
Reviewed April 25, 2013
by Michele Blacksberg RN
Edited by Jody Smith
Tags: