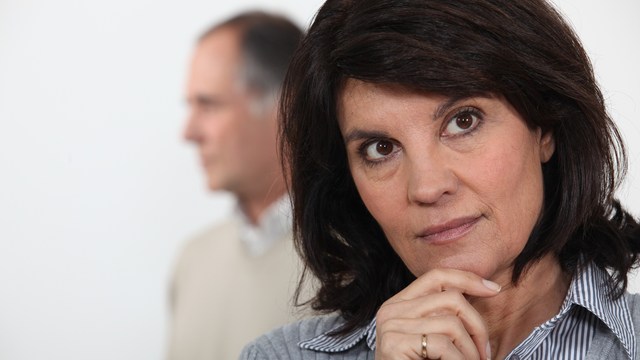 Auremar/PhotoSpin
As we move into menopause our bodies take on a life of their own. We can experience changes that are physical, emotional and mental. One of most talked about symptoms is hot flashes. Women have cute phrases and jokes for those.
Vaginal dryness, another common symptom, is one of the least discussed. Vaginal atrophy can lead to vaginal dryness during menopause because there are reduced levels of estrogen in the body.
Estrogens are responsible for the thickening and plumping of the blood vessels that supply the vaginal walls. Estrogen is also responsible for the coating of moisture and vaginal secretion on the vaginal wall that keeps it lubricated and helps to prevent infection.
With the decline of estrogens:
• The wall of the vagina becomes thinner and more fragile
• The lack of moisture causes dryness in the vaginal walls because the constriction of the blood vessels reduces the nutrient supply to the vagina
• There could be an increase of itching, irritation, discharge or unpleasant smell due to the lack of protective chemicals in the vaginal secretions
• Sexual intercourse can become more painful because of the thinning of the vaginal wall and reduces secretions
• The lack of acidic chemicals in the vaginal secretions reduces the protection from infection, increasing the risk for more viral and bacterial infections
Often when a women experiences itching and unpleasant smell she may believe she is having a yeast infection. However, it could be another type of infection called bacterial vaginosis.
BV can increase the rate of sexually transmitted infections including HIV, so it is important for women to recognize these small symptoms and correct them for overall health.
The physical symptoms can cause daily discomfort and reduce pleasure during sexual intercourse. Lack of physical intimacy can also have emotional consequences, as it changes an important social dynamic for your sexual health and the relationship between you and your partner.
One of the most successful treatment options for women to consider is hormone replacement therapy (HRT). In a survey presented at the 23rd Annual Meeting of the North American Menopause Society (NAMS) it showed that using estrogen creams in the vaginal area is one of the most effective ways to reduce vaginal dryness and all symptoms related to dryness.
In my practice I use bio-identical hormones which reduce the risk associated with conventional hormone replacement therapy.
Vaginal dryness is a menopausal symptom that needs to get more attention because it has physical and emotional consequences for women during the menopausal transition and beyond.
If you are experiencing vaginal dryness and want relief, talk to your doctor to learn more about your options.
Live Vibrantly,
Dr. Dae
Dr. Dae's website: www.healthydaes.com
Dr. Dae's book: Daelicious! Recipes for Vibrant Living can be purchased @ www.healthydaes.com
Dr. Dae's Bio:
Dr. Daemon Jones is your diabetes reversal, hormones, metabolism and weight loss expert. Dr. Dae is a naturopathic doctor who treats patients all over the country using Skype and phone visits. Visit her or schedule a free consultation at her website www.HealthyDaes.com
Sources:
"Berman Sexual Health." Four Steps to Non-Hormonal Treatment of Vaginal Dryness. N.p., n.d. Web. 23 Sept. 2014.
http://www.bermansexualhealth.com/vaginal-dryness/24-four-steps-to-non-hormonal-treatment-of-vaginal-dryness
Vaginal Atrophy Undertreated, Has Adverse Effect on Relationships. Medscape.com. Web. 23 Sept. 2014.
http://www.medscape.com/viewarticle/772307
"Menopause." Symptoms. N.p., n.d. Web. 9 Sept. 2014.
http://www.mayoclinic.org/diseases-conditions/menopause/basics/symptoms/con-20019726
"Vaginal Dryness: Get the Facts on Symptoms." MedicineNet. N.p., n.d. Web. 23 Sept. 2014.
http://www.medicinenet.com/vaginal_dryness_and_vaginal_atrophy/article.htm
"Vaginal dryness." Symptoms. N.p., n.d. Web. 23 Sept. 2014.
http://www.mayoclinic.org/diseases-conditions/vaginal-dryness/basics/symptoms/con-20029192
Reviewed September 24, 2014
by Michele Blacksberg RN
Edited by Jody Smith