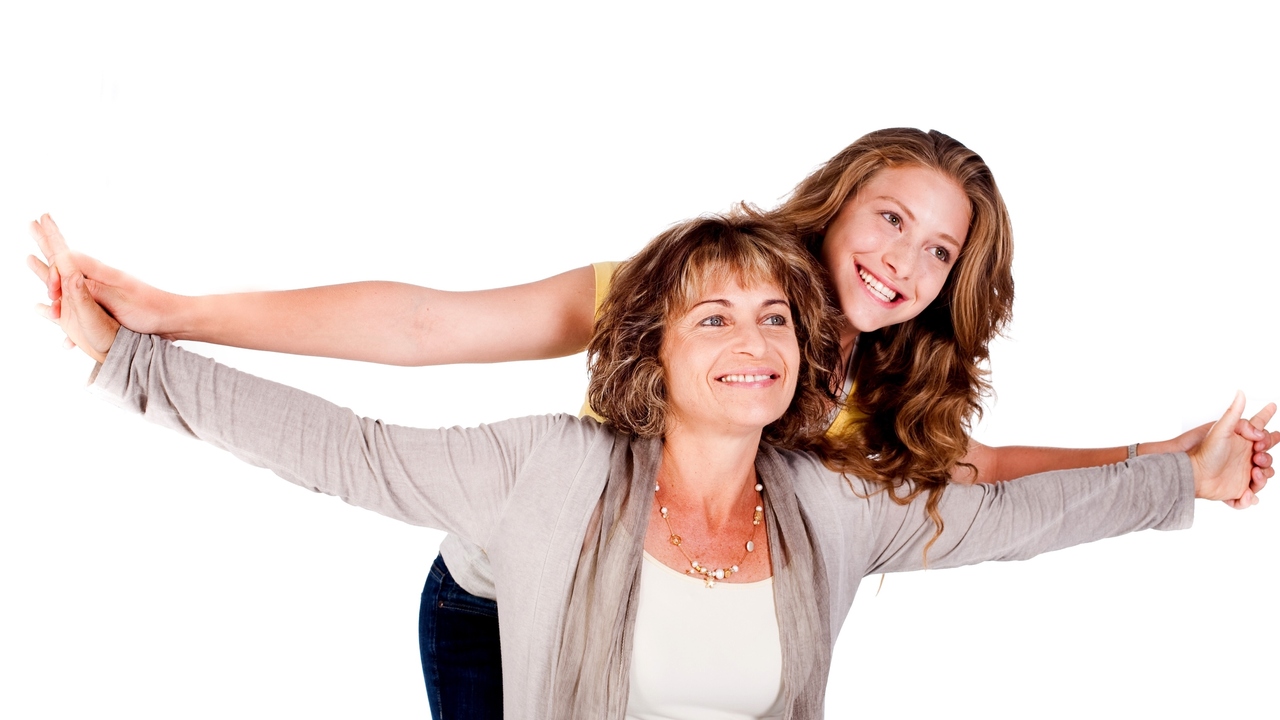 Get4Net/PhotoSpin
Mother's Day might be about breakfast in bed, flowers or candy, or even a diamond tennis bracelet for some moms.
But for many, no purchased gift is necessary. They just want to be appreciated for doing one of the toughest jobs on Earth.
All the moms I know agree that motherhood is like riding a roller coaster of emotions — the highest of highs and the lowest of lows.
Each new (and terrifying) experience teaches us raising kids is not a job for the faint of heart, though it's completely natural at times to question our own endurance, if not our sanity.
Through infancy, adolescence and into adulthood, the role of motherhood inevitably changes, but the desire to maintain the maternal bond tends to remain constant.
Trouble is, as children gain their independence and the maternal-child relationship shifts, expressing our love and admiration for each other may become more difficult, if not strained.
So what do mothers really want to hear from their kids, regardless of their age? I surveyed a few dozen moms to find out what they'd love for their kids to say to them, and some common themes emerged.
1) Two simple words: "Thank you."
Motherhood can be a thankless position, with long hours and little recognition. More often than not, the job description requires you to put others before yourself and soldier on, even when you are physically and emotionally exhausted — not that anyone notices.
Two small but powerful words can make all that altruism worth the price. Thank you.
We all need to hear specific and genuine praise from time to time, especially from the ones who mean the most to us. As human beings, gratitude is what motivate us, and helps us to feel a sense of self-worth. When it comes to Mom and the endless things she has done for you, can you ever really say Thank you enough?
2) "I'm happy."
If the pursuit of happiness is the driving force of the human condition, it's fair to say that most parents would gladly leap tall buildings to ensure their children's happiness. The happiness we're talking about here isn't the over-the-top giddy type of joy. Instead, a parent's desire is to see their children achieve a sense of well-being, feeling content, living a meaningful life with thought and purpose, using their gifts and talents.
Although things don't always go our way, and challenges arise that can make daily life a struggle, for a mom it's icing on the cake to hear that your children are happy, despite the challenges they may face.
Why? Could it be because moms consider happiness to be more a consequence than a destination? As Dr. Benjamin Spock said, "The trouble with happiness is that it can't be sought directly. Happiness is mostly a by-product of doing what makes us feel fulfilled."
"What I want more than anything else for my daughter is for her to be happy," said one mom. "My greatest hope for her is that she can find at least a smidgeon of joy every day and achieve her dreams."
3) "I know you love me (and I love you too)."
In some families "I love you" is spoken to each other daily, but for others, it's a rarity. One person said that it's more or less a sentiment that's just understood. The mother-child love bond is a complex dynamic that changes over time, however experts say like any other human relationship, the bond between mother and child needs to be nourished to thrive.
For grownup children it may be particularly difficult to have an adult-to-adult relationship with your parent. Even if you have tried unsuccessfully in the past, this Mother's Day why not give it another try?
"You already have the basic underpinnings — love and shared memories," Tina B. Tessina, Ph.D., a licensed psychotherapist in Long Beach, California, and author of "It Ends With You: Grow Up and Out of Dysfunction," and "The 10 Smartest Decisions a Woman Can Make Before 40," told Stealth Health.
"Add mutual respect and common interests and you may find a more fulfilling relationship with your mother [and your father] than any you've had since childhood."
"I love hearing my kids say 'I love you' and I hope they say it even when they are adults," says someone who self-identified as "Mezwood" on an online message board. "Just tell your mom. You should always say I love you whenever you can because life is short and you don't want someone to pass without them knowing how you feel."
4) "I admire and respect you."
As a parent, I'm always hoping to instill some of my hard-learned lessons in my children so they don't make the same been-there-done-that mistakes I've made. Sometimes they respect me and my advice, and sometimes, not so much.
From a parent's standpoint, it's painful to watch as your children suffer the consequences of their actions, particularly when those inevitable consequences were otherwise entirely avoidable. I've had to learn that instilling mutual respect in your kids is knowing when to step in and when to butt out.
Mutual respect between parents and children is key to improving family long-term relationships, promoting higher levels of self-worth and fostering quick and effective conflict resolution, says Ellen Toronto, a clinical psychologist in private practice in Ann Arbor, Michigan and author of "Family Entanglement: Unraveling the Knots and Finding Joy in the Parent-Child Journey" and the blog "See-saw Parenting."
Listening and obeying your parents' counsel is one of the ways children can show their respect. Likewise, parents must also understand that part of life is learning from ones' mistakes, and allowing children to experience for themselves. It's how we grow as human beings.
"As a mom, I would like to hear, "I'm grateful to have you in my life," said Teri Morris on Facebook.
"My son told me the other night that I was doing everything right. [It] made me cry. I know it's not true, but I think all of us moms are trying our hardest to do what's best for our kids," said one mom.
5) "I'm sorry."
The human condition dictates that there is no such thing as the "perfect parent," or the "perfect child." We all make mistakes.
Saying "I'm sorry" and asking for forgiveness is "crucial for our own emotional health and well-being, in addition to the sanctity of our relationships," said Samantha Smithstein, Psy.D., a licensed clinical and forensic psychologist in San Francisco. "Making amends and atonement is a practice that heals ourselves and others."
Nicole Jallet Moon shared this sweet letter she received from her eight-year-old son, Hunter: "I promes that I will do my chors and will do any thang that you tell me. I will not be mene and bad again at you. I love you so much. I want to kiss you."
6) "You're smart — and beautiful."
"I heard my daughter ask her friend, "Do you want to talk to my mom? She's really good at this stuff." Colleen Hawk shared on Facebook.
The older I get, the smarter my mom becomes. I often cringe, thinking about all the times I rolled my eyes and didn't give her the credit she deserves only to realize later, she really did know what she was talking about.
Growing up I was lucky to have one of the cool moms — although I didn't see it at the time. This is evidenced by the fact that after I had move away from home, my friends still hung out at my house. Some even went on trips with my mom — I wasn't invited.
It wasn't until I was much older that I realized just how amazing and beautiful my mom is. Although she married very young before finishing high school, she became a successful businesswoman, a self-taught and talented seamstress and clothing designer, and was dedicated to her family and community.
My mom's life has been filled with labor and fulfilled by love. Life hasn't been easy for her and it shows, but at 90, she is as beautiful today as she was at 18, when she married my father. As Jodi Picoult said, "My mother ... she is beautiful, softened at the edges, and tempered with a spine of steel. I want to grow old and be like her."
Thanks Mom, and I love you.
Sources:
Writer's note: Thank you to all the beautiful women who responded to my online survey. 4 May, 2015.
Stealth Health. Maintain a healthy relationship with your parents. Accessed online 5 May 2015.
http://www.rd.com/advice/parenting/maintain-a-healthy-relationship-with-your-parents
"Moms...do you like to hear your children say they love you? Yahoo message board.
https://answers.yahoo.com/question/index?qid=20071120084238AAS5VK3
PsychCentral. See-saw parenting. Ellen Toronto, Ph.D., accessed 5 May 2015
http://blogs.psychcentral.com/see-saw-parenting/2013/06/see-saw-parenting-2-the-see-saw-model
Reviewed May 7, 2015
by Michele Blacksberg RN
Edited by Jody Smith