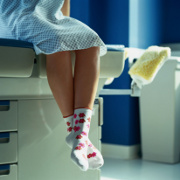 Ryan McVay/Digital Vision/Thinkstock
Having a gynecological exam has never been a pleasant experience, but for some women it can go beyond the usual uncomfortable feeling.
Some sexual abuse victims may have such anxiety and fear over getting a Pap smear that they avoid them altogether, according to a study published in the Journal of Family Planning and Reproductive Health Care.
Only about half of British sexual abuse victims in the small study received a Pap smear in the last five years, whereas the rate for the general population is around 79 percent.
Pap smears might trigger trauma responses and cause survivors to feel victimized. Some survivors report that the feeling of loss of control and the uncomfortable and even painful probing of the exam reminds them of their past.
Other past victims state that their examiner lacked sensitivity and had poor communication. Victims are also embarrassed about having to explain their experiences and the remaining visible signs of their abuse.
It's especially important for survivors to get Pap smears because they might be more at risk for cervical cancer. The study provided some suggestions for making Pap smears more bearable.
The study suggested that from abuse victims' responses they might have more positive experiences with Pap smears:
- if they have time to discuss their fears over the screening
- if they have a supportive person with them during the test,
- if they deal with a professional who is understanding
- if they are in a comfortable and private area for the test
- if there was a signal that could be used to stop the test if necessary
Professionals should also avoid using the trigger word "relax" during the test, because that word is sometimes used by perpetrators during an act of abuse.
A sexual abuse victim and professionals give suggestions on how to overcome negative emotions associated with Pap smears.
Maureen Clancy, a licensed clinical social worker, said in an email that she had a client who won't receive a Pap smear because of the helpless feeling she gets lying down with her feet in stirrups. This client experiences a "freeze" response, where she physically freezes up and can't speak or move.
However, other survivors have found ways to endure an exam. Here are tips Clancy has received from her clients:
1) "Leave if they feel uncomfortable."
2) "Ask the clinician giving the exam if he/she is sensitive to patients who have experienced sexual trauma."
3) "Ask the same thing over the phone before making the appointment."
4) "Have someone in the room with them who is comforting."
5) "Hold an object that represents safety during the exam."
6) "Bring a bottle of lavender essential oil and inhale it to feel calmer."
7) "Ask for detailed descriptions about what is being done and why."
Here are suggestions Clancy has for providers:
1) "Ask about sexual trauma history prior to the physical exam and ask the patient what would help. Then be sure to do it."
2) "Always let the patient know that they have rights and that you will help them."
3) "Don't say 'relax' or 'this will be different' or 'you'll be fine.' These words and phrases can be invalidating to the experiences of sexual abuse survivors. Rather, ask them to talk about a place they've been to that feels calm and safe."
4) "If you notice the woman having a 'freeze' response, stop the exam. Gently say the patient's name and encourage her to re-orient herself to the present by focusing on the color of the walls, etc. When the patient calms, ask if she is able to continue. If not, honor that and ask if she would like to make another appointment or if she wants a referral to a therapist."
Cristalle Sese, a clinical psychologist, suggested in an email that professionals make sure their patient feels in control, make the exam comfortable, and give them information to remove any surprises during the exam.
They should make their patient feel empowered about taking charge of their health and allow them to control the pace, and remove any judgments about past sexual experiences.
Christy, a sexual abuse victim, said in an email that she was molested by an OBGyn, so gynecological exams are a major struggle for her.
She has gotten through recent exams by utilizing counseling, only going to female professionals, and having her husband in the room holding her hand during her exam.
Sometimes she'll take medication to calm herself down. Her past experience is in her health file so professionals are aware of why she might have responses like crying and shaking due to her flashbacks.
She said the positive behavior and attitude of a provider is key to the experience.
Sources:
MedPage Today. Phend, Crystal. Sexually Abused Women Skip Pap Smears. Web. Oct. 17, 2012.
http://www.medpagetoday.com/OBGYN/GeneralOBGYN/35060
Clancy, Maureen. Email interview. Oct. 17, 2012.
Sese, Cristalle. Email interview. Oct. 17, 2012.
Christy. Email interview. Oct. 17, 2012.
Reviewed October 18, 2012
by Michele Blacksberg RN
Edited by Jody Smith