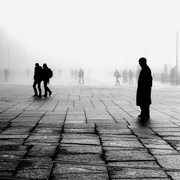 Haakon M.E. Sundaune/PhotoSpin
Stigma has been a long-standing problem working against people with mental illnesses, and some might argue that it has only increased after the Sandy Hook Elementary School shooting on Dec. 14, 2012.
Some of the general public have expressed an increasing fear of both guns and people with mental illnesses, and disorders like Asperger's syndrome or autism.
Although it's only guesswork at this time, the shooter Adam Lanza was thought to have some type of disorder, such as autism or schizophrenia, according to various sources.
Many experts, however, have spoken out about the harm that unofficial and (most likely) inaccurate mental health diagnoses of the shooter can have on people currently living with mental illnesses and other disorders.
For example, an article in Time Magazine online discussed a potential backlash against children with autism. In fact, the article described a situation where a child informed his classmates that the shooter killed little children because he had autism. However, experts point out that autism is not generally associated with violent behavior.
Elizabeth Waterman, a psychologist at Morningside Recovery Center, said in an email that there has been a focus on mental illness as a result of the recent mass shooting.
"People are quick to try to find blame for tragedies and it seems the issue of mental illness became a focus of blame for the shootings," Waterman said.
"Discussing these tragedies as the result of many factors working together would be helpful rather than focusing on one or two factors as major talking points in the media."
She said that one of the most important facts to know about mental illness, considering the recent tragedy, is that "mental illness does not 'make' a person dangerous."
If the general public knew more facts in general about mental illnesses, it could help prevent stigma, but the effort to spread this information everywhere can be difficult and expensive.
Fortunately, Waterman doesn't believe there will be a backlash against people with mental illness to the point of rights being restricted as a result of the shooting. In fact, she thinks there could be an increase in funding for mental health care.
Holly Parker, a Harvard psychologist, said in an email that if general rights of people with mental illnesses are restricted, that would "arguably violate principles of social justice" and would be "unfounded," except in the case of maintaining certain restrictions to gun ownership and use.
However, gun restrictions should not just pertain to some people with severe mental illness.
"People with mental illness are more likely to be the victims of violence rather than perpetrators, and the vast majority of people with mental illness never go on to commit violence," Parker said.
She said it's important to understand that aggressive and violent acts can take place without the presence of mental illness.
"Let's be clear: It's true that people who go on a shooting rampage are likely to have mental health issues, but just because most shooters have mental health issues doesn't mean that most people with mental health issues are likely to be shooters," Parker said.
She said instead of stigma and fear, we should be treating people with mental illness with support, acceptance and equality.
Tina B. Tessina, a psychotherapist and author of "It Ends With You: Grow Up and Out of Dysfunction," said in an email that she doesn't foresee much change when it comes to mental health care after the recent shootings at Sandy Hook.
"People are more likely to get more help from the Affordable Health Care Act than from any changes pursuant to this tragedy," Tessina said.
"Mandating care for the mentally ill might impinge on their rights, if you think that the right not to care for themselves is valuable."
And if increased access to mental health care is provided, it needs to be more than just prescribing medication.
"Cognitive behavioral therapy programs, training programs and self-management care are proven to help people live better lives," Tessina said. "Different mental illnesses and cognitive/emotional problems need different kinds of care."
She had some tips for how people with mental illness can cope with others who might be afraid of them after the recent tragedy.
"Understand that people who are afraid are reacting from ignorance," Tessina said.
"It's important to take care of yourself and protect yourself from negative input. If the person is someone you need to deal with on an ongoing basis, then the most helpful thing is to try to educate them, answer their questions [and] get to know them."
Sources:
Rochman, Bonnie. TIME. Guilt by Association: Troubling Legacy of Sandy Hook May Be Backlash Against Children with Autism. Web. Jan. 2, 2013.
http://healthland.time.com/2012/12/19/guilt-by-associationtroubling-legacy-of-sandy-hook-may-be-backlash-against-children-with-autism
Waterman, Elizabeth. Email interview. Jan. 2, 2013.
Parker, Holly. Email interview. Jan. 2, 2013.
Tessina, Tina B. Email interview. Jan. 2, 2013.
Reviewed January 3, 2013
by Michele Blacksberg RN
Edited by Jody Smith