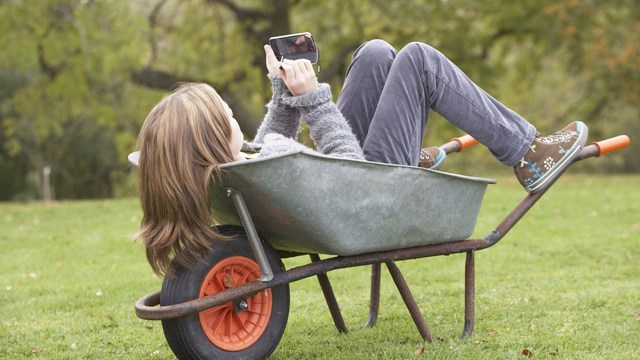 Volodymyr Chaban (Qiiiip )/PhotoSpin
Ever wonder how your iPhone or Android smart phone is actually affecting you as a person?
A new study published in the journal Computers in Human Behavior suggests that being overly involved with a smart device, such as a smart phone or tablet, is associated with mental health issues.
Researchers found that people who are highly involved/attached with their smart devices, such as thinking constantly about a smart device when it's not being used, are more likely to suffer from depression and stress (but not anxiety).
However, people who just use their smart devices often don't tend to suffer from depression, stress or anxiety because of their high usage.
"These findings suggest that it is the nature of the relationship a person has with their smart-device that is predictive of depression and stress, rather than the extent of use," according to the study's abstract.
The study included 274 participants who filled out an online survey. Although there is not a cause and effect relationship between smart device involvement and mental health issues, there is a significant association that is worth discussing.
Robert Weiss, a licensed clinical social worker and co-author of "Closer Together, Further Apart," said in an email that the people in the study who are highly involved with their smart phones are likely people who are constantly checking their phones and stressing out about who will be contacting them.
"I think it's important to state that these are folks who tend to be stressed out no matter what, regardless of whether they own a smart phone or tablet," Weiss said. "The smart phone just gives them something new and different to focus on."
He believes technology and smart devices are not to blame for stress, depression and anxiety. On the other hand, sometimes devices can aggravate other mental health problems like sex addiction, since there is a new digital outlet that can be used.
He added that obsession with anything in general could lead to depression and stress.
Here are Weiss' three signs that you or someone you know is too involved with a smart device:
1) "If a person is habitually using digital devices to escape from life rather than to connect with others."
2) "If a person is involved in a primary relationship and habitually uses digital technology to avoid emotional intimacy in that relationship."
3) "If a person is habitually using digital technology to avoid work, school, play, personal obligations, or life in general."
Ramani Durvasula, a licensed clinical psychologist and psychology professor, said in an email that she believes high involvement with smart devices could lead to lower self-esteem, and even some anxiety if the user worries and panics about not being able to find or access their phone.
Besides hurting relationships, she thinks high involvement with smart devices can also lead to poor sleeping and eating habits.
Here are three of her tips to limit smart device attachment:
1) "Have a set shutdown period every day - it could be your time with your kids, an hour with your partner, time at the gym - whatever is most important in your life. And make sure you can't see it or hear it at those times."
2) "Take a digital detox holiday - and try shutting down for 24-48 hours at a time."
3) "Set the device at night so it doesn't go on and the light of the screen or notification sounds awaken you."
Dr. Tracy Thomas, a licensed psychologist, said in a voice recording that over-involvement and over-use of devices could actually lead to instability and unhealthy adjustments in hormones and serotonin levels.
"Chronically being on the phone and doing 18 hours a day of constant facilitation by using the phone also does take a toll on the system, because your central nervous system is always processing too much, and it wears you out and it ages you," Thomas said.
Instead of merely using smart devices as a tool to facilitate life, people are enslaved to technology, and as a result excessive use could lead to burnout and an overprocessing of information, she said.
Thomas suggests using a device for no more than 8-10 hours a day. And if you're an excessive user, it may be time to gradually reduce your smart device use by shaving a few hours off the time you check your phone in the morning and night.
For example, you can put your phone in airplane mode at night so it doesn't disturb you as much (or turn it off completely), and try waiting an hour or more before checking your phone in the morning.
Sources:
Medical Xpress. Phone attachment linked with mental health stress. Web. April 9, 2014.
http://medicalxpress.com/news/2014-04-linked-mental-health-stress.html
Harwood, Joshua et al. Computers in Human Behavior. ScienceDirect. Constantly connected – The effects of smart-devices on mental health. Web. April 9, 2014.
http://www.sciencedirect.com/science/article/pii/S0747563214000661
Weiss, Robert. Email interview. April 9, 2014.
http://www.robertweissmsw.com
Durvasula, Ramani. Email interview. April 8, 2014.
http://www.doctor-ramani.com
Thomas, Tracy. Voice recording. April 9, 2014.
http://www.drtracythomas.com
Reviewed April 10, 2014
by Michele Blacksberg RN
Edited by Jody Smith