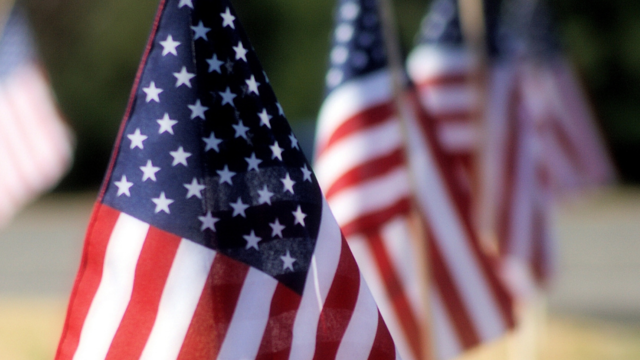 This week we celebrate Veterans Day with a salute to those who have served their country to ensure a safe, protected and free life for all. I was very lucky to be in Normandy at the 65th anniversary of D-Day and see the famous Omaha Beach, the American Cemetery.
I explored the old machinery, artillery, foxholes and bunkers that remain. It was a great experience, especially for me as a history major. And knowing how very young many are in the armed forces and how many have died for their country made us feel very humble and filled with gratitude.
Of course there have been later wars (and earlier ones, never forgetting the "Greatest Generation") and including Vietnam, the Gulf Wars and Afghanistan.
Many soldiers were treated in a terrible way at homecoming after Vietnam. There is general respect shown to our Vets here in America now, although when it comes to jobs, retraining and health care, many have been badly let down.
There is no denying the fact that some of our veterans have trouble re-settling into civilian life and often have trouble getting hired. Homelessness has long been a problem for our Vets.
Post-traumatic stress disorder (PTSD) is a mental illness that affects many people who have witnessed or experienced a high level of trauma. This can happen to rape, accident and abuse victims, and those who have experienced the perils of war.
Coming back from war can result in flashbacks, panic attacks, nightmares, insomnia, anxiety and depression. Some who deal with PTSD can have a rage disorder that results in hair trigger tempers and aggressive attacks on others.
Self-medication with prescription medications and alcohol only exacerbate the condition. Left untreated, PTSD can lead to severe depression or even suicide.
In 2012 more active-duty personnel died of suicide than in the war in Afghanistan. In an interview with the Huffington Post, Army Gen. Raymond T. Odierno who is the Chief of Staff for the United States Army was asked why suicides have increased so much.
"We've been at war for 12 years, that's what's changed. I think also the social environment has changed. We certainly seem to be having more people coming from split homes, from family backgrounds not as stable as we once had. There is more pressure on young people today than when I was a company commander. So it's a combination of these pressures."
General Odierno also admitted that these suicide levels do not end once a soldier is off active duty. The mental requirements that burden a veteran don't decrease upon retirement. Indeed, they can become even worsen, depending on the support they receive from the U.S. Department of Veterans Affairs, families, employers and society.
Many Vets have also suffered the side effects of chemicals used in war, including Agent Orange, that have caused cancer (along with a horrendous legacy of disease and deformities among the innocents of war-torn countries) in our veterans. Other soldiers have missing limbs or internal injuries.
The scandals in the Department of Veterans Affairs have seen many Vets being denied health care, having their health needs delayed to such an extent that they have died while on waiting lists.
The government has promised that this will never happen again and that the health care needs of veterans are a top priority. We need to hold the government accountable.
The families of our veterans also need support. In fact, families suffer along with Vets who are not getting proper treatment.
An EmpowHER article by MC Kelby tells us about stress relief for caregivers, including the families of Vets. She notes that for veterans, respite services are limited to 30 days per year. The respite services are offered through the Veterans Health Administration (VHA).
Other possible veteran sources include:
• TRICARE's Extended Care Health Option (ECHO)
http://www.tricare.mil/mybenefit
• Military Exceptional Family Member Program (EFMP)
http://www.militaryhomefront.dod.mil/portal/page/mhf/MHF/MHF_DETAIL_1?se...
It's not enough to thank a veteran. We need to put pressure on the U.S. Armed Forces to care for those who have served, long after deployment is over. We need to offer employment to our Vets and take advantage of their discipline and training.
We can also volunteer. Here's how.
One day is not enough. So let us thank our Vets for their service and then stick around to see how we can help.
Sources:
The Huffington Post. Veterans. "Army Chief Ray Odierno Warns Military Suicides 'Not Going To End' After War Is Over" Web. Retrieved Nov 9th 1014.
http://www.huffingtonpost.com/2013/09/25/ray-odierno-military-suicides_n...
EmpowHER.com. Relationships and Family. Caregiving. "How to Pay for Respite Services". Web. Retrieved Nov 9th 1014.
https://www.empowher.com/caregiving/content/how-pay-respite-services?pag...
Edited by Jody Smith