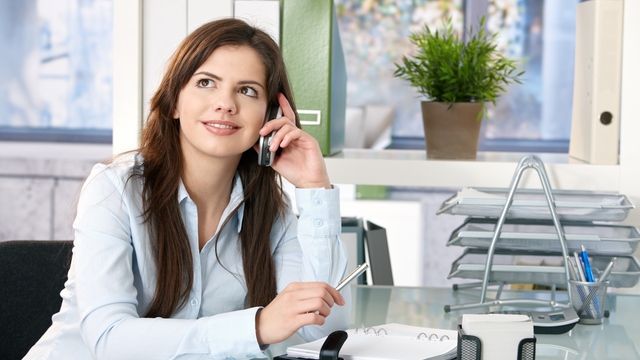 MonkeyBusiness Images/PhotoSpin
It's not too late to start the new year off with a more positive outlook on life. You can start making changes to your attitude today with the help of tips from people who have already done it:
1) "The best thing you can do for yourself is acknowledge your personal and professional wins and be thankful for them," said Lauren Foster, the founder and CEO of Stretch Recipes Inc.
"Sometimes, we tend to spend several hours driving the ship and forget that while everything doesn't and can not go according to plan, we have accomplished so much. Count the wins, write them down, and most importantly, be thankful for them."
2) Allen Klein, author of the upcoming book "You Can't Ruin My Day," said in an email that women can choose to be happy. For example, when something upsetting occurs, women can change their thoughts toward the situation.
Women have to ask themselves whether they want to be right or happy. If they want to be happy, then in annoying situations they can choose to be peaceful, grateful and forgiving. They can also "make happiness a priority," and "choose to embrace the situation instead of cursing it."
3) "Create yourself a vision board of where you want to be by the end of the year, make it shine, make it something you're excited about, and hang it in a space where you see it when waking up, as well as before going to bed," said Arthur Kaptein, a career development consultant and author of "Ultimate Brainstorming."
4) Kristin Deiss, a Reiki master and certified yoga teacher, decided last year to wake up like a Disney princess every morning. "Every morning when I woke up, I consciously made the decision to stretch, smile, and get myself pumped for the day. Every morning I thought to myself, 'anything is possible. Today might be the best day of my life.'"
Deiss went on to explain, "Thinking this way really made me excited for my life - even in the monotony of everyday tasks I was able to find excitement and real gratitude for being alive. Not knowing what was waiting for me around the corner brought such a special and magical nature to being alive, that it really kept me both present and positive."
5) "Actively change 'have to' into 'get to,' as in changing 'I have to take the kids to school' to 'I get to take the kids to school,'" said Kristi Stender-Weessies, a senior program coordinator at Borgess Health & Fitness Center.
"Moving to a habit of phrasing daily tasks as 'get to' creates a greater sense of gratitude and leads us to feel more in control of our lives and activities."
6) Watch yourself throughout the day (catch your reflection in store windows or even the bathroom mirror) and notice how you look (smiling or scowling) and how you're holding your body slouching or standing tall), suggests Karen Berg, author of the book "Your Self-Sabotage Survival Guide: How to Go From Why Me? to Why Not?"
Berg said, "The energy you send out comes back to you. Be aware of the energy you are sending out."
7) Danielle Scherman, a realtor associate at Coldwell Banker Pacific Properties, said in an email that it's important to be present even if you're busy. Just taking even a few minutes a day can positively impact you and others around you.
"Practice looking people in the eye when you're speaking to them, even when you're busy running out the door! Put down your phone, stop what you're doing and really listen and respond."
8) "Refresh often," suggests Susan Smith Jones, an author of 27 books and a health consultant. "Build breaks into your day ... to reset and refresh. Just as your computer can slow down or even freeze when you're running too many programs, your mind and spirit can get worn out from too much mental (and digital) multitasking."
9) Sally Anne Giedrys, a life and career coach, recommends starting the day with kindness. "Take five minutes of your day to do one small kind thing for someone else. Buy a coffee for a stranger in line, send a thank you email to a friend, help a neighbor. Nothing strenuous required — you are building your positivity muscles."
10) "End toxic relationships," said Barbie Adler, the founder and president of Selective Search, a matchmaking firm. "Whether it's a friendship or somebody you casually date, having constant negativity around will not help you lead the life you want."
Sources:
Foster, Lauren. Email interview. January 13, 2015.
http://www.stretchrecipescookingexperience.com/pages/about-us
Klein, Allen. Email interview. January 13, 2015.
http://www.allenklein.com
Kaptein, Arthur. Email interview. January 13, 2015.
http://www.ultimatebrainstorming.com/About-Us.html
Deiss, Kristin. Email interview. January 13, 2015. http://deissenergywork.com/about/
Stender-Weessies, Kristi. Email interview. January 14, 2015.
http://fitness.borgess.com/about.ashx
Berg, Karen. Email interview. January 14, 2015.
http://www.amazon.com/Your-Self-Sabotage-Survival-Guide-How/dp/1601633513/ref=sr_1_1?s=books&ie=UTF8&qid=1421245353&sr=1-1&keywords=your+self+sabotage+survival+guide+how+to+go+from+why+me+to+why+not&pebp=1421245346632&peasin=1601633513
Scherman, Danielle. Email interview. January 14, 2015.
http://www.barefootagent.com
Smith Jones, Susan. Email interview. January 13, 2015.
http://susansmithjones.com
Giedrys, Sally Anne. Email interview. January 13, 2015.
http://wholelifestrategies.com/about
Adler, Barbie. Email interview. January 13, 2015.
http://www.selectivesearch.com/about-us
Reviewed January 19, 2015
by Michele Blacksberg RN
Edited by Jody Smith