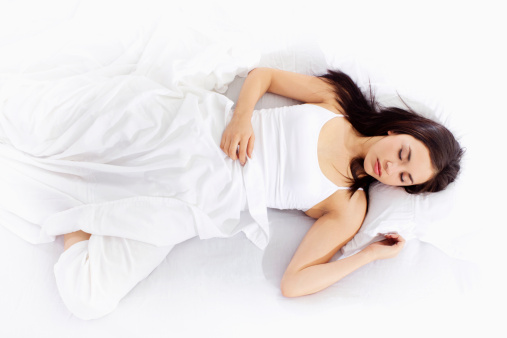 Photo: ThinkStock
Chronic Fatigue Syndrome is a designer disease. It etches a unique signature into each of its sufferers. My worst symptoms are different from someone else's. But certain things remain a common experience. The following symptoms seem universal.
1) Cognition Problems
There are days spent as a CFS vegetable, and times when everything in our heads is tumbling like clothes in a dryer. Thoughts dissolve before they're fully formed, thinking is disjointed, short-term memory evaporates. We may experience difficulty in talking, and understanding speech. We may have problems with dyscalculia (dyslexia with numbers).
2) Unrefreshing Sleep
Some have insomnia, others can't stay awake. Sleeping hours may be erratic, whether short or long. Night - day, sleep - wake, may be reversed. Whatever the CFS sleep dysregulation, many of us never wake refreshed.
3) Muscle and Joint Pain
Pain can be pervasive. Joints and muscles become stiff and sore, and sometimes stop working at all, seemingly for no reason. These symptoms can take weeks or months to ease -- or move right in and never go away.
4) Vertigo
Vertigo comes in many forms. Dizziness, mental disorientation, tinnitis, vision fractured and blurred, I have seen the world through all these prisms. I've seen floors rise up, and walls undulate inwards and outwards. Some people with CFS are bumping into things, falling down, unable to move, overcome with nausea and vomiting. The cause of these symptoms is uncertain, cure -- you guessed it -- unknown.
5) Post-Exertional Malaise (PEM)
PEM really makes life with CFS unpredictable. Will I be bed-ridden tomorrow because I spent an hour doing paperwork today? Will I awaken in pain because I went for a walk? I can go to the store tomorrow if I don't do anything now. That's because two days in a row of "extra" activity can cost six weeks recovery-time.
6) Increased Sensitivity to Sight and Sound
A ticking clock, flashing lights on a jazzy website, the busyness of a TV screen. People talking in another room. Any of this -- and more -- can send CFS sufferers to their room with neurological symptoms swirling.
7) Sore Throat, Swollen or Tender Lymph Nodes
Lots of infection for our bodies to deal with and our immune systems are goofed up for some reason. Hypervigilant in some respects. (Many researchers consider CFS an auto-immune disease, like MS, or lupus -- the body attacking itself.) Slothful and doltish in others, allowing infection to proliferate and reproduce.
8) Gastrointestinal Problems
Name your poison -- someone with CFS is going to be sick from it. For me, it's carbohydrates, except for most vegetables. For someone else it's meat. Nightshades. Or something else. And reactions are just as varied -- nausea, sharp stabbing pain in the gut, anxious feelings, brain fog, irritable bowel syndrome, panic attacks, numbness and tingling, weakness, rashes ... the list goes on.
9) Parasthesia
Welcome to the psychedelic side of CFS. Parasthesia refers to strange physical sensations in general. Hot and cold. Numbness, tingling, shooting pains, swirling, inner vibrating, and a feeling of one's physical boundaries and outline flashing in and out or on and off.
10) Orthostatic Intolerance (OI)
This is the inability to stay upright. That "gonna fall down right NOW" feeling.
Orthostatic Hypotension is one type of OI. Blood pressure drops upon standing, and for some reason the body doesn't stabilize it. You can't stand up without getting dizzy and light-headed, because the blood can't get up into your head. Or you can stand up but you can't stay up -- i.e., you fall down.
Postural Orthostatic Tachycardia Syndrome (POTS) is another example. A person with this can't stand up for more than a few minutes. They begin to feel all kinds of crazy things. They must sit or lie down to feel normal again. Researchers guess it's got to do with the fact that most CFS sufferers have low blood volume, and all the water we can drink doesn't seem to fix it.
This is not an exhaustive list of CFS symptoms, they are just among the most common. If you know someone with CFS, they've probably dealt with all of them at some point.
Resources:
Phoenix Rising
https://phoenixrising.me/
ProHealth
http://www.prohealth.com/
eMedicineHealth
http://www.emedicinehealth.com/chronic_fatigue_syndrome/article_em.htm
I spent 15 years losing the battle against CFS. Two years ago, I found treatment that worked for me, and now I am making a comeback.