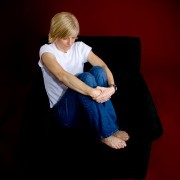 Photo: Getty Images
As we age, we become more prone to backaches. Exercising and maintaining good posture can help keep muscles strong and help reduce the chances of experiencing back pain.
Anti-inflammatories should be able to control the pain if it's from stress or strain. But if you find yourself popping over-the-counter pain medication like it's candy, particularly if the pain radiates down your legs, or you experience tingly toes, you may want to schedule an appointment with a doctor or orthopedist. With radiating, or "toe-tingling" pain, one of the spinal discs (the spongy rings that cushion the bones in your spine) could be pressing on the spinal nerve, according to a Yahoo! Health article found online.
Disc trouble needs to be attended to by a trained doctor. Not getting disc issues treated could risk permanent nerve damage. Treatment may include pain management, physical therapy, surgery (in severe cases), and chiropractic care.
Do you have a question about bones & joints, back pain, or spinal concerns? Check out EmpowHER's pages. Sign-up, post a question, share your story, connect with other women in our groups and community, and feel EmpowHERed!
Resource:
Yahoo! Health: 7 Pains You Shouldn't Ignore
EmpowHER: Back Pain: The Price We Pay for Being Human
Christine Jeffries is a writer/editor for work and at heart, and lives in a home of testosterone with her husband and two sons. Christine is interested in women's health and promoting strong women.