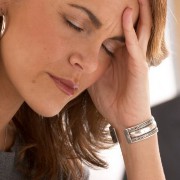 Photo: Getty Images
I am sitting in a dark theater watching "Superman Two" in Brooklyn, New York, with my mother. Christopher Reeve is so handsome and muscular as he flies through the sky. His shimmering blue and red cape and body suit look like he was born to wear them. I am about thirteen-years-old. I begin to feel faintly nauseous and then, suddenly, I can't see the whole screen. I see parts of Christopher Reeve and then only pieces of his feet. I throw up on the sidewalk outside of the theater and spend the rest of the day in the dark of my room, struggling to understand why I can't see and have a bomb in my brain ready to explode.
I am working the numbers of my combination locker in the sixth grade. Turning the black dial against the silver metal I'm pretty sure I have it but then I can't read the numbers anymore and everything begins to fall away, again. Pieces of the locker are there but only if I move my head a certain way, and then the nausea strikes, followed by having to be picked up from school, followed by another day in the dark, in pain, and confused.
My adolescent migraines are known as "migraine with aura" which means I had significant changes in my vision as a precursor to the debilitating headache. Eventually I was put on a drug called "ergotamine" and was told that stress and lack of sleep contribute to migraine (I was a stressed out insomniac as a child) and that my hormonal changes were contributing to it. I was also told I would probably outgrow them.
I'm very, very happy to say that I did, and while I occasionally do still come down with a yearly or bi-yearly doozy of a headache, migraine is no longer something that controls my life.
Sharing something interesting though, for any sufferers out there or for those of you with children who suffer from migraine, in my personal experience, heavy pressure on my head was a great relief. My stepfather used to grip my head and squeeze as hard as he could for as long as he could and that created an amazing counter balance to the enormous pressure I felt. It's not easy to squeeze someone's head, but giving your head, or your loved one's or child's head, as vigorous a rub as you possibly can may increase blood flow and help ease the pain.
Oliver Sacks, a man so dear to my heart that I named my firstborn son after him (his middle name is Oliver), is the single most incredible author of clinical vignettes in modern history. He is the author of a number of amazing books, one of which is devoted exclusively to the exploration of migraine and you may find it here: http://www.oliversacks.com/books/migraine/
For more on migraine follow this link:
http://my.clevelandclinic.org/disorders/headaches/hic_migraines_in_children_and_adolescents.aspx
Aimee Boyle is a regular contributor to EmpowHER. She lives and writes in CT.