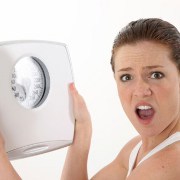 Photo: Getty Images
Almost everyone I know is considered "obese" according to Wii Fit, and it was a running joke for awhile that unless you were on the verge of starvation, the Wii Fit would tell you that you were inches away from cardiac arrest due to enormity.
The charts we use to measure height and weight are unforgiving. Children growing too slowly and gaining too quickly cause percentages to spiral out of control. Sitting in school all day and then in front of the computer screen all afternoon have made our kids sedentary, and in some instances, their muscles have become soft.
We, too, suffer from feelings that charts and percentages induce in us. We think we're doing pretty well with our lives and with our eating, and then, wham! There it is again: the failures shown in our weights, our eating habits, our appearances and our health.
The fact of the matter is, weight is a fluid thing that changes frequently as a person grows and develops. For women, menstruation and pregnancy cause as much fluctuation in weight as one could imagine, and many people will tell you their eating and exercise habits don't change much.
We want to feel sexy and confident in ourselves, and we also want be fit and healthy. And more than anything, we want that for our kids.
Perhaps the charts hurt our feelings so much because we realize how stringent we must be, and it feels like a punishment, especially because our culture is so firmly rooted in celebrations with food, alcohol and sugar (think of the first birthday party you ever had and take it from there).
In order to maintain our own health, as well as our children's, we are going to have to face the feelings of these charts and make some life-changing decisions. Do we want to take them with a grain of salt and enjoy our food, weight, and lives without succumbing to the judgmental voices within our own heads? Do we want to become vigilant about diet and exercise, doing everything possible to walk, bike and hike with our families, eating whole grains and veggies, and skipping the ice cream and chocolate every single day? Maybe there's a happy medium in all of this. In fact, they say moderation is one path to wisdom and balance, and if we throw away all the birthday cake, we may resent our broccoli even more.
Whatever your personal decision, remember there's more to all of us than endlessly number crunching, and if you want to take baby steps and substitute carrots for a bagel, it couldn't hurt.
Aimee Boyle lives and writes in CT. She is a regular contributor to EmpowHER.
Edited by Shannon Koehle
Tags: