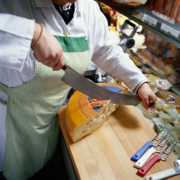 Photo: Getty Images
You really can't consume too much calcium. And just when you think you're consuming enough – you know, taking supplements, drinking milk, eating calcium-rich foods – you should probably take some more.
At least that's the message a new study published in the May 2011 issue of the Journal of the American Dietetic Association.
Researchers from the University of Connecticut and Yale University found that while self-reported calcium density was highest in older age groups, it was still not sufficient to meet recommended levels.
Osteoporosis – a disease characterized by low bone mass and structural deterioration of bone tissue, leading to bone fragility and an increased susceptibility to fractures – is a serious threat in the U.S., affecting 55 percent of the population age 50 and older according to the National Osteoporosis Foundation (NOF).
The Foundation reported that in the U.S. today, 10 million individuals are estimated to already have the disease and almost 34 million more are estimated to have low bone density, placing them at increased risk for osteoporosis and broken bones. Of the 10 million with osteoporosis, 8 million are women.
Researchers took data collected from 9,475 adults during the National Health and Nutrition Examination Survey (NHANES) of 2003 to 2006 and found that self-reports of calcium intake was highest in older people, it was still not sufficient.
Getting calcium from food is our best source, but because we consume less food as we age, we ultimately consume less calcium.
Study participants reported that their calcium supplement use increased with age, but median dietary calcium intake was lower in the 81-plus age group by 14 percent in women, compared to the median intake reported in the 19-30 year age group.
The authors looked at the decrease in energy intake reported by various age groups. Men's median energy intake declined by 35 percent from the 19-30 age group to the 81-plus age group, from 2,668 kcal/d to 1,733 kcal/d. For women, median energy intake showed a 28 percent reduction from the youngest to oldest age group, from 1,844 kcal/d to 1,325 kcal/d.
In relating calcium and energy intake, dietary calcium density as well as calcium supplementation play a critical role in attainment of established adequate intake levels.
As we age, it is crucial that we remember that food is the best source of calcium. Dairy products, green vegetables and some juices, breakfast foods, soy milk, cereals, snacks, breads and bottled water have calcium that has been added.
The NOF recommends adults age 50 and older need a total of 1,200 milligrams (mg) of calcium from all sources and adults under age 50 need a total of 1,000 milligrams (mg) of calcium from all sources each and every day.
And while, yes, it is probably possible to consume too much calcium, if you're one of the 44 million Americans affected by osteoporosis or low bone density, it might be wise to err on the side of too much rather than too little.
Americans still may not be getting enough calcium
http://www.eurekalert.org/pub_releases/2011-04/ehs-asm042711.php
Office of Dietary Supplements
http://ods.od.nih.gov/factsheets/calcium/
National Osteoporosis Foundation
http://www.nof.org/
Bailey Mosier is a freelance journalist living in Winter Park, Florida. She received a Masters of Journalism from Arizona State University, played D-I golf, has been editor of a Scottsdale-based golf magazine and currently contributes to GolfChannel.com. She aims to live an active, healthy lifestyle full sunshine and smiles.
Tags: