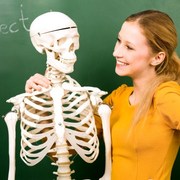 iStockphoto/Thinkstock
Are your bones at risk? If you're over age 50, the answer is probably yes! It's a simple fact of aging that the older we get, the weaker our bones become.
We think of bone as a strong, almost solid material. In reality, our bones are mostly made of collagen, which is a protein.
Collagen creates a soft, living and growing framework. Our bodies fill in the framework with calcium phosphate, which is a hard mineral.
The calcium makes our bones strong and hard to support us, while the soft collagen framework lets our bones be flexible enough to withstand stress.
Our bodies are constantly rebuilding bone tissue to keep our skeletons strong using a two part process. During formation, new bone tissue is laid down to replace older bone. During resorption, special cells break down and remove the old bone tissue.
When we are young, it's normal for new bone to be added faster than old bone is resorbed. This leads to stronger, larger, and denser bones. Most people continue to build bone at a faster pace until they reach their 30s which is typically when bone density reaches its peak.
As we age, the rate of bone formation drops off and resorption begins to catch up. It is a normal part of aging to begin to lose bone density.
But if your bones failed to reach normal peak bone density, or if bone resorption significantly exceeds the rate of bone formation, bones can start getting weaker and more prone to breaking.
This can lead to osteoporosis, or brittle bones. Many people with osteoporosis don't know they have the condition until they have a fracture.
Some risk factors for osteoporosis are out of your control. Older adults, women -- especially women who are Asian or white -- and people with a family history of osteoporosis are at higher risk for this condition.
Other risk factors can be controlled. These include:
• Diet – You can help strengthen your bones and reduce your risk of osteoporosis by including foods rich in calcium and vitamin D in your diet.
• Exercise – Bones become stronger with regular exercise.
• Weight – Being too thin can increase your risk of osteoporosis.
• Smoking – Smoking cigarettes makes it harder for your body to use the calcium in the foods you eat. Smoking can also lead women to go through menopause at a younger age. Post-menopausal women are at higher risk for osteoporosis.
• Alcohol – People who drink more are at higher risk.
• Medications – Some medications including glucocorticoids and anti-seizure medications can cause bone loss. Talk to your health care provider or pharmacist if you have questions about your medications.
If your doctor thinks you may be at risk for osteoporosis, he or she may want to have your bones tested. A bone density test can detect if your bones have a normal density for your age.
If your bone density is low, there are things you can do to slow down bone loss and reduce your risks for osteoporosis, including eating more calcium-rich and vitamin D-rich foods, and getting more exercise such as walking or dancing to increase bone strength. There are also prescription medications that can help prevent osteoporosis.
Sources:
Eating Well. Bone Health Risks. Web. January 15, 2013.
http://www.eatingwell.com/nutrition_health/bone_health/bone_health_risks
NIH Osteoporosis and Related Bone Diseases National Resource Center. What Is Bone? Web. January 15, 2013.
http://www.niams.nih.gov/Health_Info/Bone/Bone_Health/default.asp
NIH Osteoporosis and Related Bone Diseases National Resource Center. Bone Health For Life. Web. January 15, 2013.
http://www.niams.nih.gov/Health_Info/Bone/Bone_Health/bone_health_for_li...
Medline Plus. Bone Density. Web. January 15, 2013.
http://www.nlm.nih.gov/medlineplus/bonedensity.html
Mayo Clinic. Bone density test. Web. January 15, 2013.
http://www.mayoclinic.com/health/bone-density-test/MY00304
Reviewed January 16, 2013
by MIchele Blacksberg RN
Edited by Jody Smith