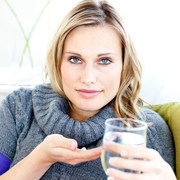 Wavebreak Media/Thinkstock
Research over the past decade has shown vitamin D plays an undeniably essential role in the health and well being of all people. Yet, by some estimates, half of the world's population is deficient in this important vitamin.
Now, new research has suggested that for women with ovarian cancer, vitamin D may be the difference between life and death.
Women with ovarian cancer who are also vitamin D deficient are more likely to die than ovarian cancer patients with sufficient vitamin D levels, a new observational study suggested.
Researchers led by Dr. Małgorzata Walentowicz-Sadlecka at Nicolaus Copernicus University in Poland, examined a potential link between vitamin D blood serum levels and the five-year survival rates of 72 epithelial ovarian cancer patients, aged 37-79, who had undergone optimal cytoreductive surgery.
Vitamin D plays a much broader disease-fighting role than originally thought. Recent studies show having low vitamin D blood levels increases the risk of getting a host of chronic diseases, such as osteoporosis, heart disease, multiple sclerosis and some cancers.
Low vitamin D is linked to an increased risk of infectious diseases too, such as tuberculosis — even seasonal flu, according to Harvard School of Public Health.
Results from an unrelated 2011 study showed that having adequate levels of vitamin D is considered to be a significant factor in inhibiting malignant tumor growth.
For this new study, participants' vitamin D levels were tested before surgery and compared to vitamin D serum levels of a control group of 65 healthy non-obese women aged 35-65 years.
Researchers found that as a group, ovarian cancer patients had significantly lower vitamin D3 serum levels (12.5 ng/mL) than healthy women in the control group (22.4 ng/mL).
However, when researchers divided the study group into two subgroups and survival rates were analyzed, ovarian cancer patients whose vitamin D blood serum was higher than 10 ng/mL were more likely to realize a five-year survival rate than those with a blood serum level lower than 10 ng/mL.
The researchers concluded that low vitamin D3 concentration in the blood is associated with lower overall survival rate, which might suggest severe vitamin D deficiency plays a critical role in ovarian cancer becoming more aggressive.
The new study has important ramifications for women. Among cancers of the female reproductive system, ovarian cancer is the second most common and is the fifth-ranked cause of cancer-related mortality in women in Europe and the United States, according to 2009 cancer statistics.
While the understanding of ovarian cancer and treatments has greatly improved in recent years, what causes the disease remains unknown.
Perhaps most troubling is that the five-year survival rate for ovarian cancer does not exceed 45 percent. Experts say the reason for this is that most women with ovarian cancer don't present symptoms until later stages of the disease when it is harder to treat.
This remains true despite the introduction of new markers for detecting ovarian cancer in early stages.
The researchers suggested that testing for vitamin D levels as part of standard procedure could help to identify ovarian cancer patients with a worse prognosis who could undeniably benefit from supplementation as part of their treatment.
The Polish study was published early online Aug. 4, 2012 in the journal Clinical Biochemistry.
Lynette Summerill is an award-winning writer and Scuba enthusiast living in San Diego, CA with her husband and two beach loving dogs. In addition to writing about cancer-related issues for EmpowHER, her work has been seen in newspapers and magazines around the world.
Sources and Patient Information:
Walentowicz-Sadlecka M. 25(OH)D3 in patients with ovarian cancer and its correlation with survival. Clinical Biochemistry. Published online 4 August 2012. Abstract online at:
http://www.sciencedirect.com/science/article/pii/S0009912012004535
Vitamin D and Health. The Nutritional Source, Harvard University School of Public Health. Accessed online 16 Sep. 2012 at:
http://www.hsph.harvard.edu/nutritionsource/what-should-you-eat/vitamin-d/index.html
Jemal A. et al. Cancer statistics, 2009. CA Cancer J Clin. 2009; 59:225–249. Available online at:
http://www.ncbi.nlm.nih.gov/pubmed/19474385
Holick M. F. Vitamin D: evolutionary, physiological and health perspectives. Curr Drug Targets. 2011; 12(1):4–18. Abstract and article online at:
http://www.ncbi.nlm.nih.gov/pubmed/20795941
Reviewed September 18, 2012
by Michele Blacksberg RN
Edited by Jody Smith