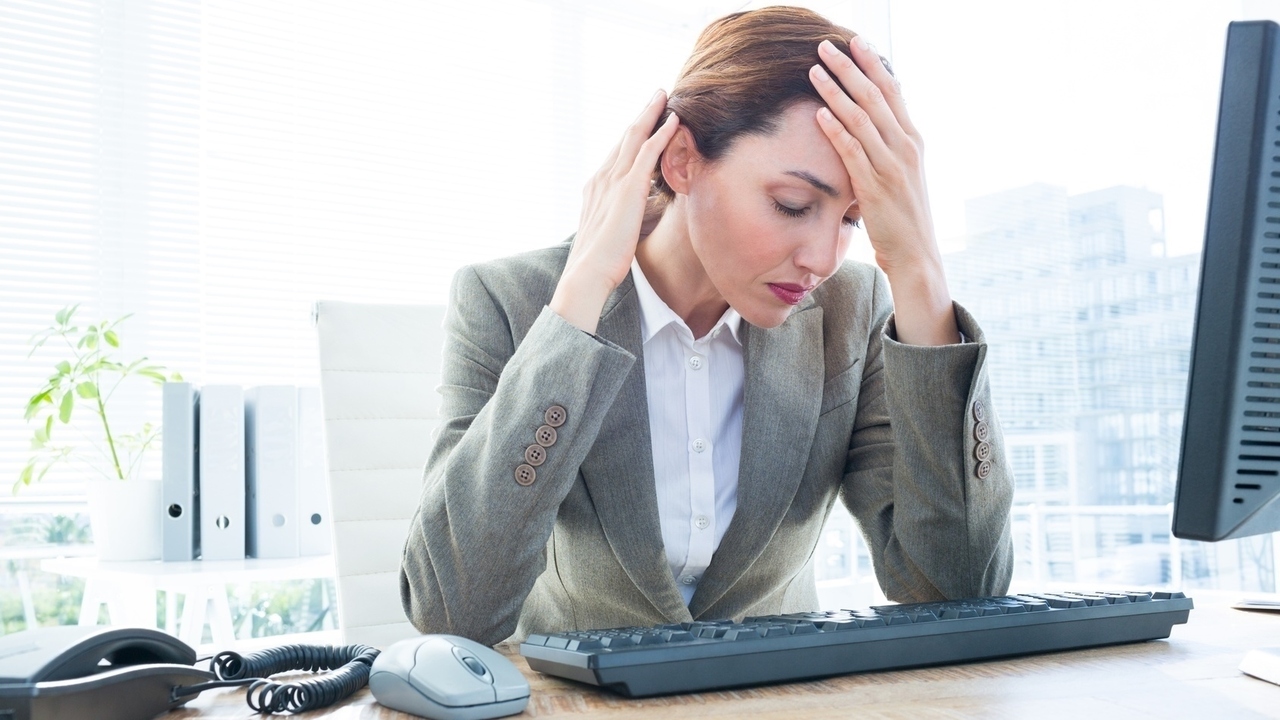 WavebreakmediaMicro/Fotolia
The only real tangible benefit of sitting all day in front of a computer at work is that you get a paycheck as a result, right?
Even though you may know that sitting for long periods of time is not ideal, the bigger mystery is exactly what your office job is actually doing to your body and health.
Sitting for long periods of time is actually associated with higher mortality rates and multiple health issues, according to Scientific American.
Here are 10 specific ways that sitting all day in front of your computer is harmful for your health:
1) Poor posture can lead to musculoskeletal pain.
Women, especially those with larger busts, have higher amounts of torque and stress to their spines. That make it difficult to maintain upright postures while working at a desk job, according to Armia Abdo, a physical therapist, owner and clinical director of Coury & Buehler Physical Therapy, Irvine. This difficulty will lead to quicker fatigue and eventually loss of proper posture.
2) Poor posture can lead to hormonal changes.
The stress hormone cortisol can increase in production, while testosterone may drop when the body has poor posture, according to Abdo. These hormonal changes in turn affect the brain — the position of your body can affect your mind and how you function.
3) Neck pain is a common concern for people with desk jobs.
Unfortunately, Abdo notes that neck pain can in turn lead to headaches, excessive curves in the mid-spine and lower end of the neck. Some workers may even end up with a hump, or appear to be hunched over.
4) Breathing problems can be associated with poor posture.
See a pattern? Poor posture can cause so many issues, if left untreated. Poor posture limits the mobility of the lungs to expand and limits oxygen intake, which results in fatigue and concentration difficulties, according to Abdo.
5) Sitting for long periods of time can lead to weight gain.
Obesity, along with several other health issues, is associated with sitting all day at a job. This is partly due to the body's metabolism and circulation slowing down, according to Dr. Lynne Kavulich, the founder and clinical director of American Wellness Care. In the end, this leads to reduced fat breakdown and fewer calories burned.
6) Sitting for hours can lead to muscle and back issues.
For example, women may experience tightening of the hips and hamstring muscles in the back of their thighs, as well as weakened back and abdominal muscles, Kavulich said.
7) Extended sitting time is associated with reduced blood circulation in legs.
This reduced circulation can in turn lead to varicose veins and swollen ankles, according to Kavulich.
8) Reduced activity may lead to osteoporosis.
Women who aren't moving around enough due to sitting at work a majority of the day may eventually suffer from weakening bones, Kavulich said. Pressure on the spine from sitting for hours can also lead to disc degeneration.
9) The mind can become foggy.
Along with a drop in mood, the brain may lose its clarity after sitting for prolonged periods of time, according to Kavulich. Mood drops and mental fogginess are associated with reduced blood flow and metabolic rate.
10)
Some computer screens and lighting in the office can emit ultraviolet radiation. According to Dr. Tsippora Shainhouse, a dermatologist in Beverly Hills, UV radiation from older computer screens, as well as fluorescent lighting, can irritate skin conditions like rosacea and lupus, as well as contribute to skin damage and aging.
Sources:
Levine, James. Scientific American. Killer Chairs: How Desk Jobs Ruin Your Health. Web. September 24, 2015. http://www.scientificamerican.com/article/killer-chairs-how-desk-jobs-ruin-your-health
Abdo, Armia. Email interview. September 15, 2015.
http://cbphysicaltherapy.com/id/armia-abdo-pt-dpt-ocs-cert-smt-ssrc-cscs
Kavulich, Lynne. Email interview. September 17, 2015.
http://americanwellnesscare.com/about-us/meet-the-doctor.html
Shainhouse, Tsippora. Email interview. September 16, 2015.
http://www.rapdermbh.com/clinic/staff
Reviewed October 1, 2015
by Michele Blacksberg RN
Edited by Jody Smith
Tags: