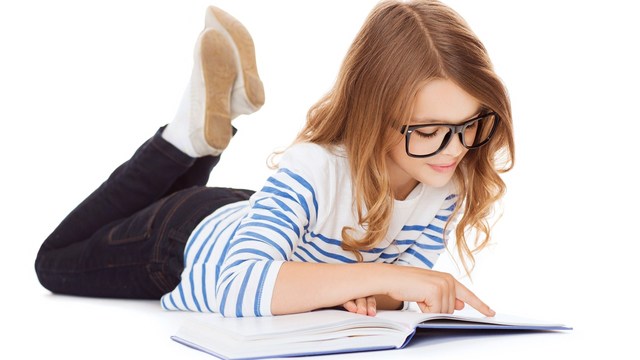 Lev Dolgachov/PhotoSpin
If your child brings a note home from school or day care saying he or she has been having difficulties; if your child is squinting, holding a book close to her face or sitting too close to the television; or if your child often complains of headaches, it's time for an eye exam.
Even if your child doesn't show any of these behaviors or indicators, it's a good idea to take him for an eye exam before beginning grade school.
Once the exam is done and it is determined that your little one needs glasses, how do you choose the right ones?
Choosing Your Child's First Glasses: Comfort, Safety and Fit
1) Make sure the frames fit comfortably across the bridge of the nose, and are made of a good quality material. If your child has a sensitivity to certain metals, a plastic frame might be the best option. Also, don't choose frames that are too big.
2) Choose lenses that are made out of an impact-resistant material and provide UV protection. The lenses should be as thin and light as possible. A scratch-resistant coating is also a good idea.
3) Once the glasses arrive, make sure that they fit your child's face well and do not slip down the nose when your child moves her head.
Look for red marks behind the ears or on the bridge of the nose after a couple of hours. These mean that the glasses fit too tightly. It is also important for you to learn and teach your child how to care for their glasses.
How to Get Your Child to Wear their New Glasses
To help encourage your child's compliance with this new visual requirement, allow him child to choose the frames he would like. This is a time when he can be a little creative. If he likes them or thinks they're cool, he's more likely to wear them without much fuss.
Give your child positive feedback about her choice and about how she looks in them.
Be aware that it will take a child a few days to get used to how the glasses look and feel on her face, and what the world looks like when she puts the glasses on.
Sources:
1) Glasses for Children. Doctors of Optometry of Canada. Web. Accessed: Aug 10, 2014.
http://doctorsofoptometry.ca/glasses-for-children/?gclid=CjwKEAjwpIefBRCuir7wy-f1kCwSJADXBi2az9RT-ackJGNUNn0GmadwPsbPSoRVI_EVXcSvRGXsDBoCyBjw_wcB
2) Advice regarding glasses for children. Cambridge University Hospitals Department of Ophthalmology Paediatric Ophthalmology. Web. Accessed: Aug 10, 2014
http://www.cuh.org.uk/sites/default/files/publications/PIN2827_advice_regarding_children%27s_glasses.pdf
3) Does your child need glasses? Tancock, Kat. Canadian Living. Web. Accessed: Aug 10, 2014.
http://www.canadianliving.com/moms/family_life/does_your_child_need_glasses_2.php
4) Tips and Advice on Helping Your Child Adjust to Wearing Glasses. OmniEye. Web. Accessed: Aug 10, 2014.
http://www.omnieye.ca/tips-and-advice-on-helping-your-child-adjust-to-wearing-glasses
5) Getting the Right Fit for Your Child's Frames. Goldstein, Ivonne. OptiWow – Eyewear for the stylish Kiddo. Web. Accessed: Aug 10, 2014.
http://kidsandglasses.com
Reviewed August 11, 2014
by Michele Blacksberg RN
Edited by Jody Smith
Tags: