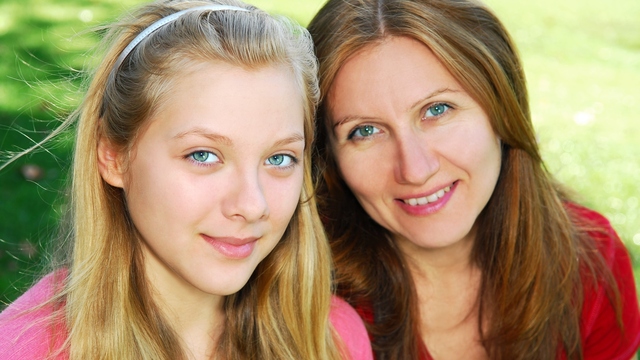 Elena Elisseeva/PhotoSpin
Since puberty happens gradually, don't wait until your daughter has her first period to talk to her about it. Depending on what she hears at school from teachers or peers, she may be frightened about bleeding and other changes happening in her body.
Moms know that periods can start at the most embarrassing, inconvenient and inopportune times. Imagine a girl who has no idea what's happening to her body suddenly start bleeding during gym class.
Preparing your daughter before it happens, including what to do when it happens, will help her not to be afraid. And that goes a long way to helping your daughter be comfortable with the changes.
What Moms Need to Know about First Periods
Your daughter will start her first period about two years after developing breast buds, sometime between age 9 and 10 years of age.
You don't need to start talking about it when she's three, but talking about periods around, say, ages 7 or 8 just as a matter of course will help her feel comfortable coming to you with questions.
Being proactive about talking to your daughter can help you avoid impromptu "birds and bees" speeches that you're not prepared for.
It's also not necessary to get into the "gory" details in the beginning. Sometimes a simple, "It's what happens when your body starts changing from a girl into a woman," is all a girl needs at the start.
Keep it simple. When they actually get closer to say, 9 or 10 years of age, then you might want to discuss the role periods play in reproduction including that they can still get pregnant even if they haven't started menstruating yet.
It's also about this time that she'll need to know about PMS, sanitary napkins, tampons and cramping, and how to deal with the latter. She'll need to beware of and report severely painful menstruation, especially if it interferes with her sleep, ability to attend school and study. Some may also experience migraines.
Parents/Caregivers Need to Know What They're Talking About
Part of being comfortable talking with our girls about periods comes from being comfortable with the topic ourselves. With the Internet and so many awesome "talk to girl" resources available, there's no excuse to not be informed.
In the beginning, menstrual cycles can be irregular and may occur at three to six week intervals. Some girls may have only three or four periods per year. It is important that your daughter knows that this irregularity is normal.
If your daughter hasn't menstruated by the time she's 15, or three years after breast buds have appeared, she should see a doctor. (2) It is also important for a girl to learn to have an "emergency stash" or to go to the office or talk to a female teacher (many will have extras on hand for this sort of thing).
Parents/Caregivers Need to Know How to Communicate
Part of effective communication is listening. An old proverb reminds us that we have one mouth and two ears, which means we should listen twice as much as we talk.
When your daughter comes to you with a question, instead of assuming what your daughter's asking, find out what she thinks the question is about. Use questions like, "What have you heard about it?" This might be a time for you to provide her the correct and precise information she needs.
Also, avoid talking about periods or puberty in negative terms, like "the curse." It is a normal part of girl-to-woman transformation. We want to make sure our girls are confident and think positively about their bodies.
If they learn to fear or despise their bodies and what happening to them, it could shape how she feels about other normal developmental milestones to come.
Sources:
1. What Girls Need to Know about Growing Up. Shaw, Gina. WebMD. Web. Accessed: Nov 17, 2014.
http://teens.webmd.com/girls-puberty-10/girls-first-period
2. Talking to Your Child About Menstruation. KidsHealth.com. Web. Accessed: Nov 17, 2014.
http://kidshealth.org/parent/positive/talk/talk_about_menstruation.html
Reviewed November 19, 2014
by Michele Blacksberg RN
Edited by Jody Smith
Tags: