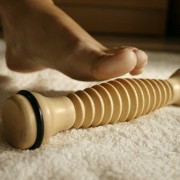 Photo: Getty Images
As I sit at my computer composing this article, I have a golf ball underneath my left foot and am rolling it back and forth across the carpet. I have to say, it hurts so good. While I would not necessarily admit that I suffer from debilitating foot pain, I do notice that my feet are often tired, achy, and sore, and I attribute that to the many miles I run each week. The golf ball is a welcome relief!
However, two other runners in my household – my husband and my oldest son – have not been so lucky. They have been experiencing a lot of pain in their feet, courtesy of a condition known as plantar fasciitis. Both of these guys can frequently be seen limping around as if they are walking on tacks or something. Both of them have sought various treatment methods, but nothing has really seemed to alleviate their continuing discomfort.
Imagine my excitement when I was informed about a new treatment method for this annoying condition. Amazingly, it involves something as simple as stretching.
According to a recent study from the Journal of Bone and Joint Surgery, individuals who suffer from acute plantar fasciitis can enjoy superior results with manual stretching exercises as opposed to shockwave therapy. This study involved a group of 102 patients who presented with acute plantar fasciitis pain. They were randomly assigned to two groups. Fifty-four of the patients spent an eight-week period engaged in a stretching program while the other 48 received consistent, low-energy radial shock-wave therapy. No other form of physical therapy was used during this experimental period.
Long story short, those in the stretching group fared far better than those who were the recipients of the shock-wave therapy, with 65 percent of the stretching patients reporting relief as opposed to 29 percent of those in the other group! What a difference!
According to John Furia, MD, an orthopedic surgeon in Pennsylvania and one of the authors of the study, if you develop plantar fascia pain, you should commence the non-operative method of treatment immediately. If you incorporate the stretching aspect early on, the less likely you will require any sort of invasive treatment method later on. While those with chronic fascia pain seem to do well with the shock wave therapy approach, those with acute fascia pain seem to respond more favorably to the simple stretching methods.
So, how do you do these miraculous stretching exercises? According to the American Academy of Orthopedic Surgeons, you should begin in a seated position. Cross the affected foot over the knee of your other leg. Then, grasp your toes on the affected foot and bring your ankle and toes up. Put your thumb on the plantar fascia and rub it to stretch it. When stretched, the fascia should feel like a tight band running along the bottom of your foot. (I am trying this now. Wow! It feels great! Even though I would never admit to such a condition – the competitor in me – it does feel good.) Be sure to hold this stretch for 10 seconds. Repeat this 10-20 times for each foot.
The best time to perform this stretch is first thing in the morning before you even get out of bed. Also, if you have been sitting for extended periods of time, be sure to use this approach. If you notice a sharp pain in your heel upon standing, that is a clear sign that the stretch should have been done before you got on your feet.
The good news is that studies have shown that more than 80 percent of those suffering from plantar fasciitis will notice an improvement within 10 months of starting these simple methods of treatment.
Hmm...maybe I will give it a try myself, but the golf ball remains. It just feels too good!
(Information for this article was found at (http://www.aofas.org/scripts/4disapi.dll/4DCGI/cms/review.html?Action=CMS_D
ocument&DocID=51. You may also visit http://www.orthoinfo.org for more information on plantar fasciitis.)
Tags: