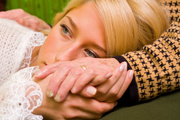 Photo: Getty Images
Postpartum depression is a well-known problem that affects approximately 15 percent of women after giving birth. It usually occurs within the first four weeks postpartum, and the symptoms are similar to those of major depressive disorder. Postpartum depression has traditionally been attributed to the effects of hormonal changes on the brain.
A new study done at the University of Pittsburgh suggests that postpartum depression physically affects neural circuits in the brain. While it is uncertain whether these changes are a cause or effect of postpartum depression, the finding that they are visible on functional MRI is significant. Metabolism in the amygdala was significantly different in women with postpartum depression than in those without it.
The amygdala is part of the limbic system, and is associated with functions related to memory, anxiety, fear, and other emotions. Dysfunction in the amygdala is implicated in problems such as anxiety disorders, borderline personality disorder, and posttraumatic stress disorder. The amygdala is part of a feedback system that releases stress hormones and has an effect on the sympathetic nervous system and the fight or flight response.
Mothers with postpartum depression showed less activity in the amygdala when shown sad or upset faces than those without symptoms. This helps explain the problem these mothers have bonding with their infants. It indicates that a mother with postpartum depression would not have the same empathetic and protective reaction to a crying infant as a mother without the disorder would. In addition, more activity in another part of the amygdala correlated with hostility towards the infants.
It is not yet known whether the changes found on functional MRI are a cause of postpartum depression or an effect, but it certainly shows it is not "just" an emotional issue or something a woman should just get over. This study shows real, objective changes in brain activity.
According to Medline Plus, symptoms of postpartum depression include:
• Agitation and irritability
• Decreased appetite
• Difficulty concentrating or thinking
• Feelings of worthlessness or guilt
• Feeling withdrawn, socially isolated, or unconnected
• Lack of pleasure in all or most activities
• Loss of energy experienced
• Negative feelings toward the baby
• Thoughts of death or suicide
• Trouble sleeping
This study shows once again that postpartum depression is not merely baby blues or something that you can think your way out of. It has a profound effect on your brain and your ability to care for your infant. If you have symptoms of postpartum depression, please contact your health care provider for evaluation. Your health and that of your baby may depend on it.
Sources:
The American Journal of Psychiatry online: Abnormally Reduced Dorsomedial Prefrontal Cortical Activity and Effective Connectivity With Amygdala in Response to Negative Emotional Faces in Postpartum Depression
http://ajp.psychiatryonline.org/cgi/content/abstract/appi.ajp.2010.09081235v1
MedlinePlus: Postpartum depression
http://www.nlm.nih.gov/medlineplus/ency/article/007215.htm
PhysOrg.com: Postpartum about brain, not just hormones
http://www.physorg.com/news203932583.html