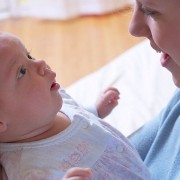 Photo: Getty Images
The planning stage has begun on the nation's – and possibly the world's – first comprehensive community center to address the entire spectrum of practical and emotional needs of women, infants and families coping with antenatal and postpartum mood disorders.
Imagine a center, a building, an actual location where women could go and fearlessly express all that was in their heart regarding impending birth or postnatal challenges. And also receive every possible service to support their road to recovery. No more endless journeys from facility to agency, hospital to health care provider, OB unit to mental health professional's office.
Imagine a place where stigma does not exist and education has silenced ignorance - where the whole family is welcomed and healed.
Imagine such a center overlooking the sea administered by top psychiatrists, social workers and other mental health and social support professionals, along with staff providing more concrete services such as meal preparation, child care services, transportation, and family services. How about a massage or soothing CD, nutritional counseling and informal chats?
Imagine the possibility of an inpatient stay - if needed - with beds solely occupied by other new mothers who are dealing with the same challenges, while their infants are cared for nearby to reduce/avoid early maternal child separations.
S.P.A.R.K.S. (Serving pre and postnatal women with awareness, relief, knowledge and support) has dared to imagine and begin creating such a center and it's no pie in the sky wish. This Brooklyn-based organization for women experiencing or recovering from perinatal mood disorders has already been hard at work on many of the critical elements of such a center for the past six years.
They already provide a working confidential hot line, trained community volunteers, groups for social support and therapy, a top notch medical/psychiatric network, educational presentations on prevention, detection and treatment. And they've invested the necessary dollars to announce their services through an aggressive public relations and marketing campaign so those in need know where to go!
S.P.A.R.K.S. is already a fantastic example of a thriving public/private partnership bringing existing community services to a population of women who were previously too ashamed to reach out and ask for available support. Local volunteers provide food, housework help, respite and childcare. Trained volunteer mentors who have overcome their postpartum challenges help those currently experiences these illnesses. S.P.A.R.K.S. brings hope, help and the removal of stigma to women struggling with postpartum mood disorders.
Previously known as the "best kept secret" in Brooklyn, the success of this community based agency is legendary and revered by those fortunate enough to have benefited from their family and sometimes life saving services.
The visionary Esther Kenigsberg who founded S.P.A.R.K.S. is now taking her dream to the next level. She has garnered the support of local legislators, community leaders and health care policymakers to help realize this new center. Kenisberg saw the effect of untreated mood disorders on children during her tenure as a play therapist and vowed to take action after her own pregnancy came to a smooth conclusion.
An extremely talented businesswoman, Kenisberg sees any obstacle as a transient challenge only. With a confident smile and her foot firmly wedged in even the highest office door, she goes out and recruits the best, befriends those who will walk alongside her, and devotes countless hours a day to reach her goal. It is impossible not to be charmed and inspired by this determined woman who will achieve her dream.
You want to come and support it? Fine! Kenisberg's inclusive spirit is just the kind of maternal entrepreneurial energy we have needed to birth such a center for our fellow mothers.
The plans have begun, a location has been found, and sketches of the center are underway to give to the architect. And there is a long line of impressive resumes from many professions and community based agencies eager to become associated with this ground breaking center.
Visit the website if you are interested in learning more or making a donation:
www.sparkscenter.org