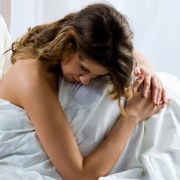 Photo: Getty Images
Abortion is rarely a comfortable topic to talk about – whether you're undergoing the procedure, are the health care provider performing the procedure or you know someone who has had an abortion.
By and large in the U.S., a stigma is attached to each of the aforementioned three groups of people: a label that can define them as "dirty" or "wrong" or in the second example, somehow discredits them as health care providers.
Recently, a group of researchers decided they wanted to explore this stigma broadly and specifically, to help the world at large better understand what it means to have an abortion. The researchers highlighted that abortion does not simply affect women or the individual woman having an abortion. Abortion's roots extend further into the community and society at large.
"Abortion Stigma: A Reconceptualization of Constituents, Causes, and Consequences," was published in the journal, Women's Health Issues, and is comprised of work done by researchers from The Johns Hopkins University Bloomberg School of Public Health; the University of Cincinnati Department of Sociology; the University of California, San Francisco, Department of Psychiatry; the Guttmacher Institute in New York; Goldsmiths College, University of London; and Center for the Study of Women, University of California, Los Angeles.
The team claimed that abortion stigma is under-researched and under-theorized, and the few existing studies focus only on women who have had abortions.
"There is very little research on abortion stigma, and what does exist has focused on women who have had abortions and on those experiences. We're looking at stigma in a broader context," explained research team member Danielle Bessett, assistant professor of sociology, University of Cincinnati.
In a press release on the study, Bessett explained that each researcher on the project is exploring a specific group that could be affected by stigma, including: health care providers who perform abortions, supporters of women who have had abortions, the male partner of the woman who had an abortion, women's experience in pregnancy after previously having an abortion and women's self stigma after suffering miscarriage.
Bessett emphasized that this exploration enters unchartered research and that the researchers hope by better understanding abortion stigma, they can devise strategies to reduce it, which will ultimately improve access to care and better health for those whom this stigma affects.
The research will be conducted in both national and international settings, including the United States, Zambia, Nigeria, Tanzania, Mexico, Brazil and countries in Europe and they hope to get it underway in the immediate future.
Sources:
It's Not Just a Woman's Issue: UC Sociologist Part of an International Team That's Exploring the Stigma Surrounding Abortion
http://www.uc.edu/news/NR.aspx?id=13858
USA: Abortion stigma: a reconceptualization of constituents, causes, and consequences
http://www.abortionreview.org/index.php/site/article/976/
Reviewed June 29, 2011
Edited by Alison Stanton
Bailey Mosier is a freelance journalist living in Winter Park, Florida. She received a Masters of Journalism from Arizona State University, played D-I golf, has been editor of a Scottsdale-based golf magazine and currently contributes to GolfChannel.com. She aims to live an active, healthy lifestyle full of sunshine and smiles.
Tags: