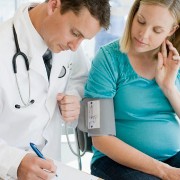 Photo: Getty Images
Scientists in Hong Kong believe they have found a safe and non-invasive alternative to diagnosing Trisomy 21 (Down syndrome) in a fetus through a DNA blood test.
Babies born with Down syndrome have three copies of chromosome 21, where there should normally be just two. One in 800 live births is born with Down syndrome.
Currently, expectant mothers are given a series of blood tests to examine hormones and proteins to find irregularities that could be markers for chromosomal abnormalities. Conventional methods for detecting Down syndrome also involve measuring the space between the spine and base of the neck. Babies with Down syndrome have more fluid in this area.
Using these conventional methods, there is a false positive rate of five percent; therefore, one in 20 mothers will be erroneously told their baby has Down syndrome.
If a mother is deemed at high risk after these series of blood tests, she is normally recommended for an amniocentesis or chorionic villus sampling. An amniocentesis is an invasive procedure in which a sample of amniotic fluid is removed from the sac surrounding the fetus. Less than an ounce is removed through a fine needle inserted into the uterus through the abdomen, using an ultrasound as guidance. The procedure does carry a one percent risk of miscarriage.
Now doctors believe that a DNA test can accurately diagnose Down syndrome without an invasive procedure. Their findings were published in the British Journal of Medicine.
The scientists used DNA technology to test blood from 753 pregnant mothers considered high-risk in Hong Kong, the UK and the Netherlands. Eighty-six of the developing babies were found to have Down syndrome. The test was highly accurate and detected Down syndrome correctly in each case.
"If we took into consideration the results of the sequencing test, Trisomy 21 (Down syndrome) could be ruled out in 98 percent of the pregnancies. This would leave just 0.1 per cent of all pregnant women needing referrals for amniocentesis or chronic villus sampling," the author of the study explained.
The test analyzes DNA from the expectant mother and fetus using the mother's blood sample.
Eighty percent of babies born with Down syndrome in the United States are to mothers over 35 years of age. According to the Association for Children with Down syndrome there is a one in 400 risk of having a baby with the condition in the 35-40 year age group. That risk jumps to one in 110 if the mom is over 40 years old.
Source: http://www.bmj.com/content/342/bmj.c7401.full