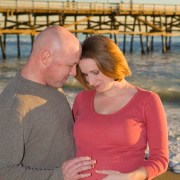 Photo: Getty Images
The beginning of 2007 seemed to be a good year. People had their jobs, bought new houses and more babies were born in the United States than any other year in the nation's history. (Huffingtonpost.com)
But when the recession hit in the fall of that year, things started to change with employment and women's thoughts on starting or growing their families.
"Researchers at the Guttmacher Institute found that because of current economic concerns, nearly half of women surveyed want to delay pregnancy or limit the number of children they have." (Guttmacher.org)
According to the 2009 report, "A Real-Time Look at the Impact of the Recession on Women's Family Planning and Pregnancy Decisions," researchers found "that more than one in four women surveyed or their partners have lost jobs or health insurance in the past year, and that 52 percent say they are financially worse off than they were a year ago." Before this spiral, families that had moved into new houses with plans of having another child, suddenly put that on hold. The 2009 birth rate was the lowest of the century. (Csmonitor.com)
This resulted in a bigger focus placed on effective contraceptive use, however the loss of health insurance made this difficult for many women. Soon they would find themselves trying to save money with less expensive methods or skipping birth control all together. "Nearly one in four women have put off a gynecologic or birth control visit in the past year to save money, and the same proportion report having a harder time paying for birth control than they did in the past." (Guttmacher.org)
Despite an overall annual birth rate decrease of 2.6 percent, there was an unexpected rise of births to women over forty. (Huffingtonpost.com) However, studies show that women may experience trouble conceiving or pregnancy complications once they are past the age of forty.
The drop in the birth rate does appear to be an economic indicator.
Sources:
www.guttmacher.org
www.huffingtonpost.com
www.csmonitor.com
Edited by Jody Smith