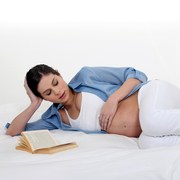 Auremar/PhotoSpin
The flu outbreak in late 2012 has quickly blown up into a full scale epidemic in 2013. At last count, 30 states are reporting widespread illness among residents.
And the ones to suffer the most, and have the greatest chances of not surviving a bout of flu, are infants, the elderly, those with compromised immune systems, and pregnant women.
Pregnant women are especially susceptible because of the vast changes to their immune system, lungs, and heart.
The mom-to-be also has her unborn child to think about if she contracts the flu. While most pregnant women get through their bout of flu with no lasting side effects, others face serious complications to themselves and their babies.
If their flu develops into full-blown pneumonia, the women's lung capacity is diminished and their babies may not receive the appropriate amount of oxygen. This could obviously create an emergency for a delicate unborn baby.
Pregnant women also are at high risk for hospitalization, premature births, and even mortal consequences if they get the flu. Babies born to mothers suffering from the flu have a higher risk for fetal and infant death.
To most people, the flu is a minor inconvenience to endure but for moms-to-be, getting the flu can be a life-or-death situation.
The best way to avoid worrying about how the flu will affect a pregnant woman is to make sure she does not get it in the first place.
In the past, some women would avoid getting a flu shot when pregnant because of fears of miscarriage. However a recent study from Norway found that the flu shot is safe for pregnant women.
Researchers studied 117,000 pregnancies and found that women who got the flu shot did not have a higher incidence of miscarriage. And, pregnant women who received the flu vaccine and still got the flu had less chance of miscarriage then those who never got the flu shot in the first place.
The study also found the flu vaccine may actually prevent deaths and could help inoculate babies while in the womb and through breast milk after birth. "The researchers calculated that the risk of fetal death was nearly twice as high for women who weren't vaccinated as it was in vaccinated mothers."
Pregnant women need to be especially careful to avoid the flu at all costs. They can use hand sanitizer, wipe down public surfaces, and avoid contact with sick people but they should first get a flu shot. They should take this disease seriously.
Sources:
MSNBC.com. Web. 20 January 2013. "Flu relief especially tricky for moms-to-be, experts say."
http://www.msnbc.msn.com/id/50511849/ns/health-cold_and_flu/#.UQCLNny9KSN
Todayhealth.today.com. Web. 16 January 201:. "Flu vaccine safe in pregnancy study confirms".
http://todayhealth.today.com/_news/2013/01/16/16549919-flu-vaccine-safe-in-pregnancy-study-confirms?lite
Reviewed January 24, 2013
by Michele Blacksberg RN
Edited by Jody Smith