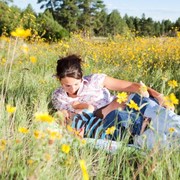 iStockphoto/Thinkstock
"Breast is best" for a number of reasons, including the well-established benefits of breastfeeding in protecting an infant's gastrointestinal tract.
Recently, researchers have looked more closely at the advantages of breastfeeding in the development of a newborn's gut microbiome. That's a term for the communities of good and bad bacteria that dwell in the GI tract.
ScienceDaily reported on a study that shows there's a difference in the way bacterial colonies form in breast-fed vs. formula-fed infants. These differences lead to effects early in life in the development of the GI tract, as well as the immune system.
As reported in the journal Genome Biology, the study -- led by a researcher from Texas A&M University -- analyzed fecal samples from three-month-old infants to conclude that breast-fed babies develop better defenses against pathogens, among other findings. The diversity of gut microbes in breast-fed infants is part of the reason.
"Our findings suggest that human milk promotes the beneficial crosstalk between the immune system and microbe population in the gut, and maintains intestinal stability," said Robert Chapkin of Texas A & M.
Interestingly, other studies of the gut bacteria in infants report on the benefits of formula supplemented with prebiotics and probiotics. The idea is to come close to replicating the beneficial bacteria found naturally in the intestines of breast-fed babies.
Two studies from the University of Illinois report that prebiotics (non-digestible carbohydrates) in infant formula help colonize the baby's gut with a stable population of good bacteria, while probiotics (protective live bacteria) in infant formula enhance immunity.
For the prebiotics study, infants were fed a formula supplemented with galacto- and fructo-oligosaccharides for six weeks. In the probiotics study, infants consumed formula containing Bifidobacterium animalis subspecies lactis (Bb12), also for six weeks.
Of course, many factors influence a new mother's decision on whether to breastfeed. But if you would like more information on the benefits of breastfeeding, you can download a comprehensive, yet simple-to-read pamphlet from WomensHealth.gov.
In a section titled "Breastfeeding Protects Babies," the pamphlet explains why early breast milk is called liquid gold, why breast milk is easier for an infant to digest, and how breast milk fights disease.
"The cells, hormones, and antibodies in breast milk protect babies from illness. This protection is unique; formula cannot match the chemical makeup of human breast milk," the pamphlet says. In addition, it lists several conditions more commonly found in formula-fed infants, including diarrhea and ear infections.
You can download "Your Guide to Breastfeeding" at http://www.womenshealth.gov/publications/our-publications/breastfeeding-guide/
Sources:
"Breastfeeding Linked to Healthy Infant Gut: Bacterial Colonization Leads to Changes in the Infant's Expression of Genes." ScienceDaily. Web. 2 May 2012. http://www.sciencedaily.com/releases/2012/04/120429234641.htm
"New Infant Formula Ingredients Boost Babies' Immunity by Feeding Their Gut Bacteria." ScienceDaily. Web. 2 May 2012. http://www.sciencedaily.com/releases/2012/02/120229155540.htm
"Your Guide to Breastfeeding." (PDF download). WomensHealth.gov. Web. 2 May 2012.
http://www.womenshealth.gov/publications/our-publications/breastfeeding-guide/BreastfeedingGuide-General-English.pdf
Reviewed May 3, 2012
by Michele Blacksberg RN
Edited by Jody Smith
Tags: