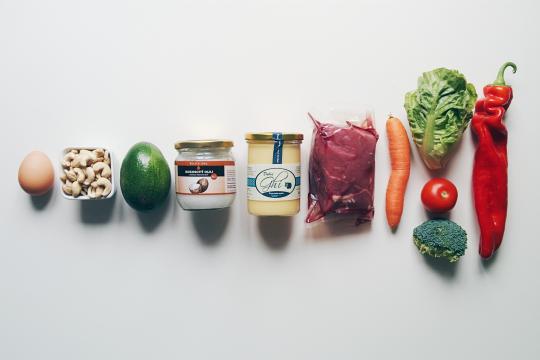 via Foodies Feed
Good nutrition is important to good health, but if you are fighting cancer you may not realize your nutritional needs are different from the needs of the general population.
Recommendations for maintaining a healthy lifestyle focus on eating lots of fruits, vegetables, whole grain breads and cereals, a moderate amount of lean meat and low-fat dairy products, and cutting back on fat, sugar, alcohol, and salt.
For cancer patients, the emphasis is on maintaining one's weight, said Veronica Johnson, a registered dietitian and clinical nutrition manager at the Roy and Patricia Disney Family Cancer Center at Providence Medical Center in Southern California's San Fernando Valley.
"Research shows weight loss during cancer treatment can predict early mortality," Johnson said. "Many cancer patients tend to eat the same amount of food they did before their diagnoses and still lose weight. Weight loss can lead to malnutrition, which in turn can prevent the body from fighting infection, and complicate their health outcomes."
Eating the right kinds of foods before, during and after cancer treatment can help the patient feel better and stay stronger, and can help aid in their recovery and quality of life.
A healthy diet includes eating and drinking enough of the foods and liquids that have the important nutrients the body needs, Johnson said. That can vary depending on the type of cancer you have, the stage of your cancer, type and frequency of treatments, any side effects you experience and your tolerance for food.
All cancer treatments can influence nutritional needs, Johnson said, including altering a patient's regular eating habits and adversely affecting how the body digests, absorbs and uses food. For instance, a patient may seem to be eating enough, but the body may not be able to absorb all the nutrients from the food, or the treatment may affect how the food tastes and smells, which can negatively affect a patient's appetite.
Side effects from cancer and its treatment can also cause difficultly in satisfying a patient's nutritional needs. Disturbances of the gastrointestinal tract, nausea and vomiting, diarrhea, sores in the mouth and throat, or a dry mouth are all common side effects that can be nutritionally challenging.
Johnson, who joined the center's integrative health care team in 2010, regularly sits down with cancer patients and their caregivers to design an individualized diet plan to meet their needs. Patients and their caregivers walk away with easy-to-prepare menus and a greater understanding of their nutritional needs.
"Not every cancer hospital has a registered dietitian on staff to work directly with oncology doctors and nurses," Johnson said. "Providing this service is keeping with the center's goal to ensure every patient has a blueprint for the best possible outcome."
Many patients inquire about taking nutritional or herbal supplements to help manage side effects, such as cancer-related fatigue or nausea. This can be tricky, Johnson said, because some alternative and complementary medicines can cause adverse side effects that can be potentially harmful.
She recommended that patients get all the information about any supplement before they start using it. She often refers patients to Dr. Lisa Schwartz, Director of Integrative Medicine at the Disney Family Cancer Center, who has researched many supplements and their effects on cancer patients.
Schwartz said it is not uncommon for cancer patients to take vitamin C and not think anything of it. However certain antioxidants in some vitamins may interfere with chemotherapy and radiation, which can diminish the treatment effectiveness.
"We're here for our patients, to answer all their questions and empower them to make informed decisions about their treatment options, lifestyle decisions and nutritional needs," Johnson said. "Our goal is for to each patient achieve the quality of life they desire."
Sources:
Interview with Veronica Johnson, RD, Clinical Nutrition Manager at Providence St. Joseph Medical Center's Disney Family Cancer Center. June 5, 2012.
Risk of Natural Treatments. Dr. Lisa Schwartz is the Director of Integrative Medicine at the Roy and Patricia Disney Family Cancer Center at Providence Medical Center. 12 Oct. 2011. Accessed online at:
https://www.empowher.com/providers/video/risks-natural-cancer-treatments
Nutrition in Cancer Care. National Institutes of Health. Accessed 5 June 5, 2012 at:
http://www.cancer.gov/cancertopics/pdq/supportivecare/nutrition/Patient/...
Reviewed June 6, 2012
by Michele Blacksberg RN
Edited by Jody Smith
Read more in Roy & Patricia Disney Family Cancer Center at Providence Saint Joseph Medical Center