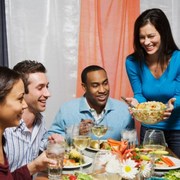 Photo: Getty Images
Last night was Thanksgiving and I have to say it was the best one I've had in a long time. There are family members in distant places and others who are no longer living who I miss terribly. But last night there was a real sense of community and and my stress level was low because I'd done all of the major cooking the day before!
We went around the room and shared stories and acknowledged people in our lives who we loved and were not with us, which helped bring many of their faces back into the feast and celebration with us.
My Thanksgiving recipes were all a mishmash of different things I'd cooked over the years as well as some amazing suggestions I'd read of things to try, or seen on one of the hundreds of cooking shows that I adore.
The sweet potatoes with brown sugar, butter, cinnamon, nutmeg, butter and cream were a smash. The mashed potatoes with milk, butter, cheese and cream went over like hotcakes. The turkey with citrus and sage butter was juicy and divine.
But the thing that everyone kept asking me about, over and over again, were the meatballs and the stuffed mushrooms that I had made as holiday appetizers. In fact, they were so popular that they completely upstaged the ham. That's saying a lot because, as you know, ham is, well ... quite a ham!
Here are the holiday appetizer recipes for the scrumptious stuffed mushrooms and meatballs that I made:
Stuffed Mushrooms
24 large stuffing mushrooms
Olive oil, just enough to coat a nice big sautee pan
Chopped Italian hot sausage, about 1/4 of a pound
Chopped Italian sweet sausage, about 1/4 of a pound
1 onion, chopped
1 clove garlic, minced
1pinch sage, dried
1 pinch rosemary, dried
Salt and pepper to taste
1/4 cup chicken stock
2 dollops ricotta cheese
2 beaten eggs
1/4 cup romano cheese
Mushroom stems, chopped finely
Directions:
In a large sautee pan, swirl around the olive oil. Set the flame to medium high.
Add onions, garlic and sautee until onions are transluscent.
Add sausage and then lower the heat to the lowest flame, cover. Check on the sautee pan and its contents every two minutes, stirring and letting all ingredients carmelize, mingle and brown. The sausage must be cooked thoroughly.
Slowly add chicken stock, stirring all the while.
Add the eggs, and keep stirring!
Finally, after the ingredients are all beautifully blended and the sausage is cooked all the way through, add the romano and the ricotta cheese. Blend everything together. Turn off the heat and let it sit for five minutes.
Next, wash and take the stems out of the mushrooms. In a separate sautee pan, sautee the finely chopped stems in a little bit of olive oil. Add them to the cheese/sausage/egg mixture and blend well.
Sautee the mushrooms themselves in the pan you used for the stems. You don't have to sautee these for long, they will be baking soon. Just make sure they're coated and a little soft.
Transfer the mushrooms to a non-stick baking sheet, with the cavities facing upward.
Fill each cavity with a teaspoon full of the mixture you created. Sprinkle liberally with breadcrumbs.
Bake at 375 degrees for about 20 minutes, or until there's a nice golden brown coating on the top.
Enjoy!
Because the pork, apple and cheddar meatballs are probably the best meatballs I've ever eaten in my entire life, I make them all the time. My children love them, my children's friends love them, the family members I had over last night went crazy for them, and they are just that good.
In hopes of giving you the true version, I will simply point you toward Rachael Ray and hope you and yours love them just as much.
http://www.rachaelraymag.com/Recipes/rachael-ray-magazine-recipe-search/dinner-recipes/pork--apple-and-cheddar-meatballs-with-egg-noodles
Aimee Boyle is a regular contributor to EmpowHER
Edited by Malu Banuelos